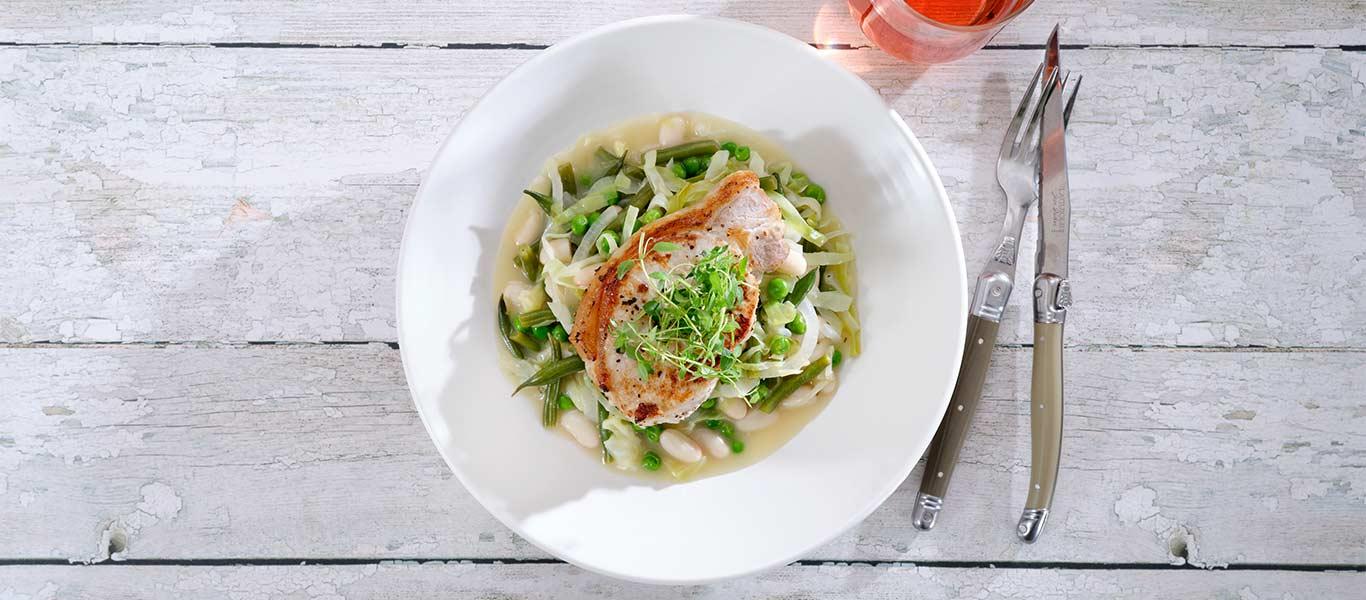 Ingredients
1 tsp olive oil 4 pork loin steaks
Sea salt and freshly ground black pepper
1 onion, thickly sliced
2 tsp thyme leaves
1 tbsp plain flour
250ml white wine
1 x chicken stock pot or cube
200g green beans, trimmed and halved
200g pointed or hispie cabbage, finely sliced
240g frozen peas
1 x 400g tin beans – white beans, cannellini, pinto, etc, drained and rinsed
Method
Season the steaks with salt and black pepper.

Heat a frying pan until hot, add the oil and the pork loin steaks and fry on each side for 5-6 minutes until cooked through.

Set aside on a plate, then cover with foil.

Return the pan to the heat. Add the onion and fry for 2-3 minutes until just softened, then add the thyme leaves and flour and cook for 1 minute, stirring well.

Add the wine and bring to the boil. Cook for 3-4 minutes until the wine has reduced by half, then stir in the stock pot and 400ml boiling water and bring to the boil.

Add the green beans and cook for 2-3 minutes until the beans are just tender and the sauce reduced slightly. Stir in the shredded cabbage and cook for 2 minutes.

Then add the peas and beans and heat for another couple of minutes until the cabbage has wilted and the ragout hot through.

Serve the pork steak with the bean ragout.