Preparation Time: 20 minutes
Cooking Time: 30-40 minutes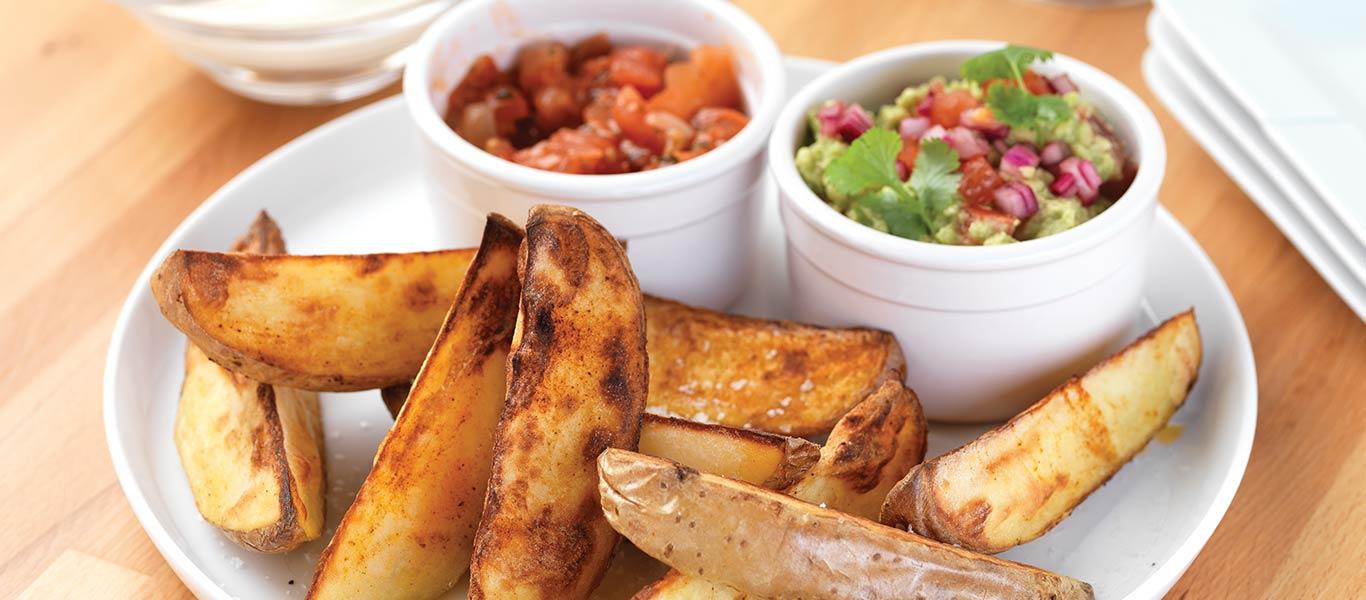 Ingredients
For the wedges
6 large baking potatoes
1-2 tbsp vegetable oil
Paprika, to sprinkle
To serve
150g pot soured cream
2 tbsp freshly chopped chives
170g pot salsa dip
For the guacamole dip
¼ red onion, finely chopped
1tbsp red wine vinegar
3 avocados
1 red chilli, finely chopped
1 tomato, finely chopped
Juice of 1 lime
2 tbsp freshly chopped coriander
Salt and freshly ground black pepper
Method
Preheat the oven to 200°C/180°C fan oven/gas mark 6. Cut the potatoes into six or eight wedges each and put in a roasting tin. Brush with oil and sprinkle with paprika. Roast for 30-40 minutes until golden and cooked through.

Put the red onion in a small bowl and add the vinegar. Set aside to marinate. This helps to soften and take out the sharpness of the onion.

Halve the avocados and remove the stone. Use a spoon to scoop the flesh into a bowl and add the chilli, tomato and lime juice. Mash well with a fork. Then add the coriander and seasoning and mash again. Spoon into a serving bowl.

Spoon the soured cream into a serving bowl. Sprinkle with the chopped chives. Put the salsa dip into a separate bowl.

Arrange the potato wedges on a large platter and serve with all the dips.