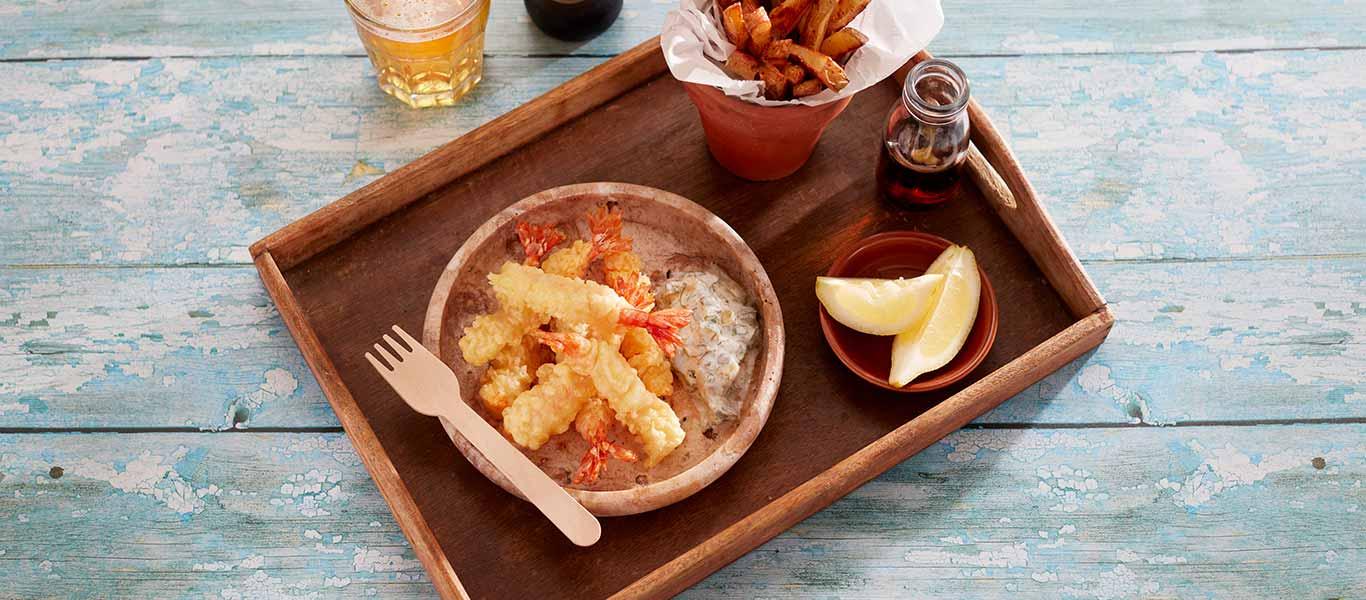 Ingredients
4 large baking potatoes, scrubbed and cut into
1cm thick batons
1 tbsp olive oil
Sea salt and freshly ground black pepper
360g frozen Tempura Battered prawns
1-2 tbsp malt vinegar
80g kefir
3 small/2 medium gherkins, finely chopped
2 tbsp capers, roughly chopped
2 tbsp roughly chopped flat leaf parsley
1 lemon, zested
Method
Preheat the oven to 220°C, fan 200°C, gas mark 8.

Tip the potato batons onto a large tray – use 2 if they're crowded. Drizzle with the olive oil, salt and black pepper then toss together.

Place in the oven to roast for at least 35 minutes, turning half way through. You want them to be slightly crispy and brown around the edges.

When the chips have 15 minutes left, turn the oven down to 200°C, fan 180°C, gas mark 6. Place the prawns onto the oven tray and place in the oven for 15 minutes until the potatoes are tender and the fish cooked through.

Spoon the kefir into a small bowl, then add the gherkin, capers and parsley and mix well. Season with a little black pepper then stir in the lemon zest.

Divide the fish, chips and tartare sauce between serving dishes, then drizzle with the vinegar and a pinch of extra salt.