Preparation Time: 10 minutes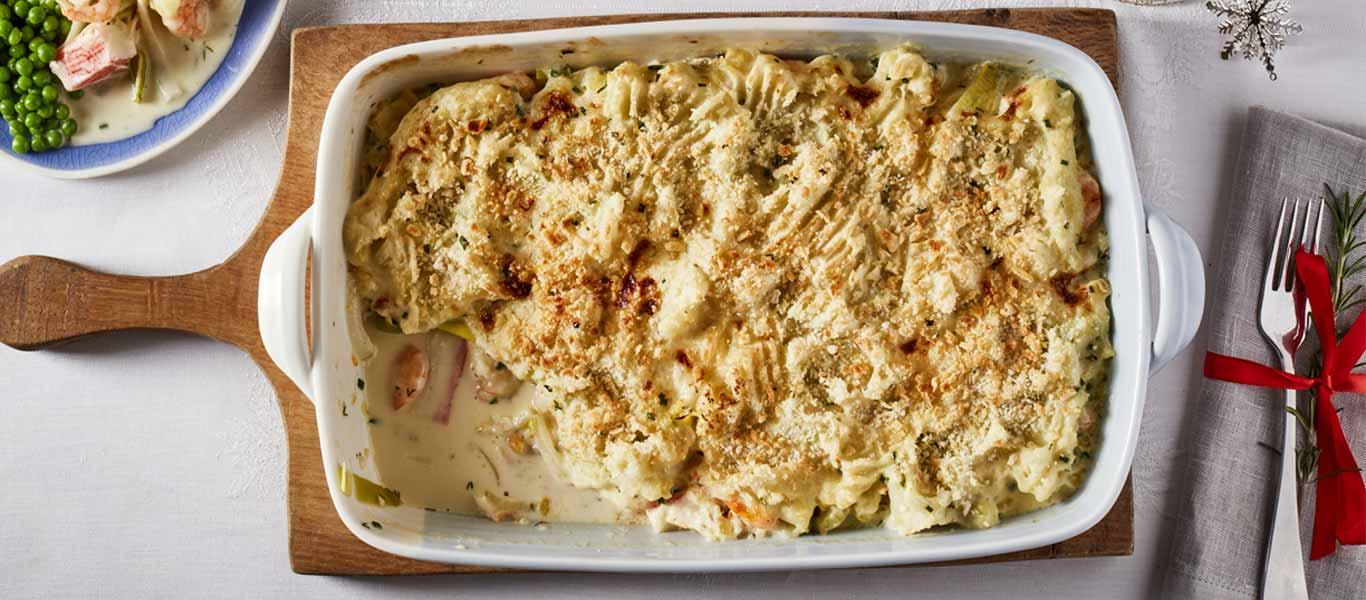 Ingredients
50g butter
1 onion, roughly chopped
1 leek, sliced
1 tbsp plain flour
200ml La Gioiosa prosecco
300ml whipping cream
250g dyed smoked haddock, cut into chunks
300g cooked king prawns
250g seafood sticks, cut into chunks
1 tbsp roughly chopped dill
2 tbsp roughly chopped chives
800g ready-made mash
2 tbsp dried breadcrumbs
320g frozen petit pois
Nutrition
Calories column
Fat column
Saturates column
Sugars column
Salt column

Calories
943

per serving

47%

%GDA

Fat
51g

per serving

73%

%GDA

Saturates
31g

per serving

155%

%GDA

Sugars
15g

per serving

17%

%GDA

Salt
4.10g

per serving

68%

%GDA
Method
Preheat the grill to high.

Heat a sauté pan until medium hot. Add the butter and heat until foaming, then add the onion and leek, stir well then cover and cook for 3-4 minutes until just softened.

Sprinkle the flour over the top, stir well and cook for 1-2 minutes then add the prosecco and bring to a simmer.

Add the whipping cream and return to the boil.

Add the haddock and simmer for 2 minutes, then add the king prawns and seafood sticks.

Season with salt and black pepper, then stir in the dill and half the chives and pour into a medium baking dish.

Heat the mash according to microwave packet instructions, then stir in the chives and black pepper.

Spoon over the top of the fish mixture and spread out with a fork, then top with the breadcrumbs.

Place under the grill for 5-8 minutes until golden and bubbling.

Bring a pan of water to the boil, add the petit pois and return to the boil.

Drain and serve with the fish pie.