Preparation Time: 15 minutes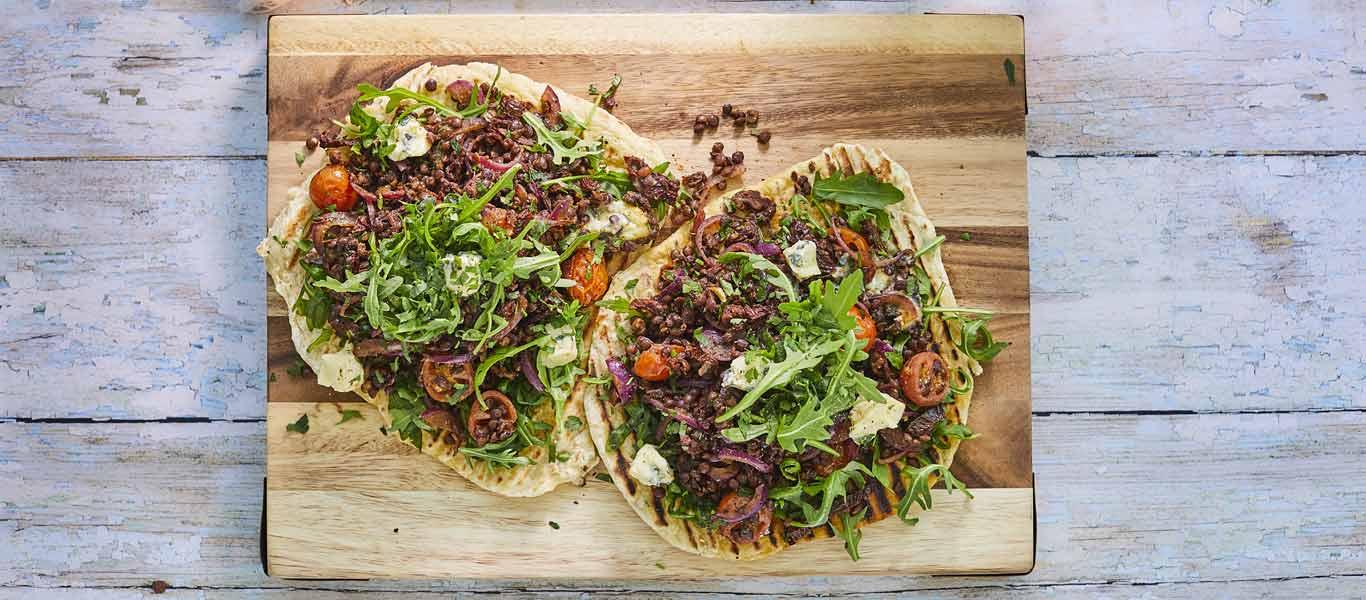 Ingredients
150g self raising flour, plus extra for rolling
¼ tsp fine sea salt
Freshly ground black pepper
1 tsp thyme leaves, finely chopped
180g 0% Greek yoghurt
1 tsp olive oil
1 red onion, finely sliced
250g cooked puy lentils
60g sun dried tomatoes, thickly sliced
2 tbsp balsamic vinegar
80g cherry tomatoes, halved
100g creamy blue cheese, roughly chopped
2 tbsp flat leaf parsley, roughly chopped
40g rocket
Nutrition
Calories column
Fat column
Saturates column
Sugars column
Salt column

Calories
910

per serving

45%

%GDA

Fat
37g

per serving

53%

%GDA

Saturates
13g

per serving

65%

%GDA

Sugars
15g

per serving

17%

%GDA

Salt
4.00g

per serving

57%

%GDA
Method
Tip the flour into a bowl, add the salt, black pepper and the thyme leaves and stir well.

Make a well in the centre and add the Greek yoghurt and 40ml cold water and mix to a soft dough.

Tip out and onto a lightly floured work surface and knead for a few seconds until it forms a soft smooth dough.

Cut in half then roll each half into a ball, flatten slightly then roll with a rolling pin to about 5mm thick.

Heat a large griddle pan until medium hot, add one piece of dough and cook on each side for about 1-2 minutes until charred and risen. Repeat with the second piece of dough and set aside while you make the topping.

Heat a frying or sauté pan until medium hot. Add the oil and red onions and sweat for 2-3 minutes until just softening.

Stir in the lentils and sun dried tomatoes and cook for 1-2 minutes until hot through, stirring all the time.

Stir in the balsamic vinegar and the cherry tomatoes and cook for another 2 minutes.

Remove from the heat and stir in half the blue cheese and stir until just melted into the lentils. Stir in half the parsley and season well with black pepper.

Place the flat bread onto serving plates and top with half the rocket and then the lentil mixture. Divide the last of the cheese between the plates and scatter the remaining rocket and parsley over the top. Serve straightaway.