Desserts Raspberry and White Chocolate Cake
---
Preparation Time: 1 hour 15 minutes Plus cooling and setting time
Cooking Time: 30-35 minutes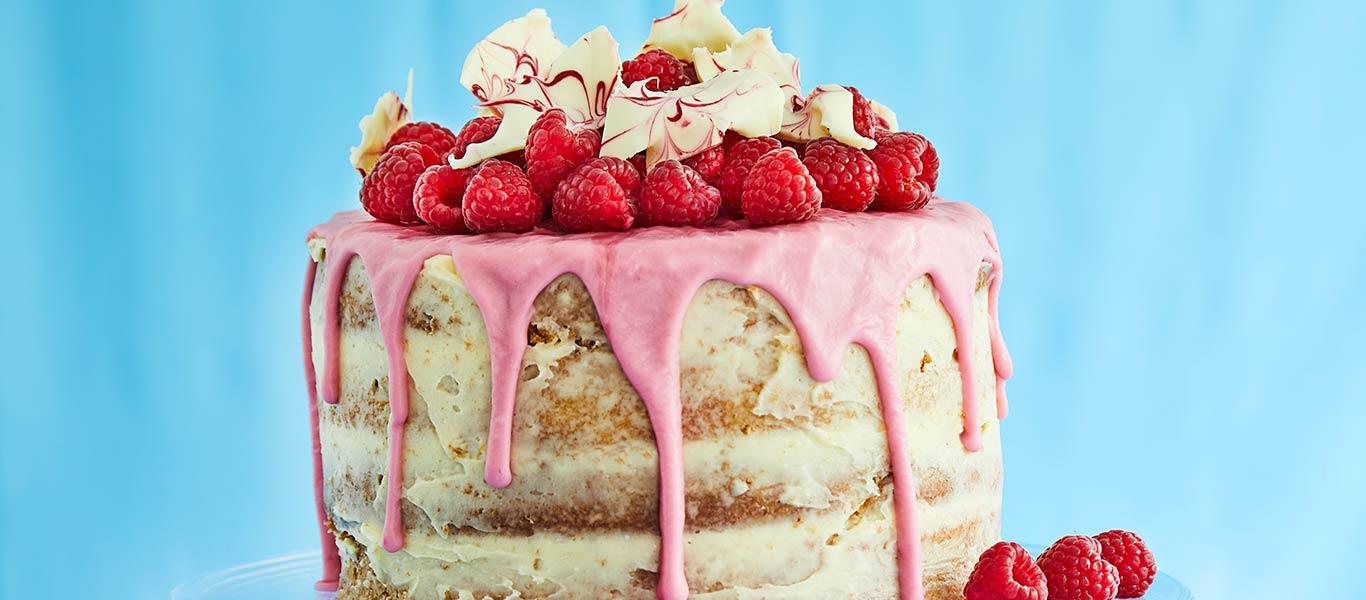 Ingredients
For the cake batter
400g unsalted butter, at room temperature, plus extra for greasing
350g golden caster sugar
6 large free range eggs, lightly beaten
400g self -raising flour, sifted, plus extra for dusting
1 tsp baking powder
3 tbsp milk
pink food colouring
100g raspberries
100g white chocolate, chopped
For the white and pink chocolate marble decorations
50g white chocolate
pink food colouring
For the raspberry icing
50g raspberries
150g unsalted butter, at room temperature
250g icing sugar, sifted
For the vanilla icing
150g unsalted butter, at room temperature
250g icing sugar, sieved
1 tsp vanilla essence
For the raspberry drippy top
50g raspberries
150 icing sugar, sifted
250g raspberries, to decorate
Method
Preheat the oven to 180°C/Fan160°C/Gas Mark 4. Grease and base line 4 round 20cm cake tins with baking parchment. Grease the baking parchment and dust the base and sides of the tins with flour.

Place the butter and sugar in a large mixing bowl. Beat with an electric hand held beater until light and fluffy. Gradually add the eggs beating well between each addition. If the batter starts to curdle add 2 tbsp flour. Fold in the flour, baking powder and milk using a large metal spoon.

Place 2 large spoonfuls of the batter into a mixing bowl. Add pink colouring to your colour liking. Mix to combine with a metal spoon. Put the pink batter back into the white batter. Add the raspberries and chocolate. Ripple the two colours to make a marble effect. Divide equally between the cake tins. Smooth the surfaces. Bake for 30-35 minutes, or until the sponge springs back when pressed lightly. Swap the tins around in the oven after 15 minutes to ensure they bake evenly.

For the white and pink chocolate marble decorations, melt the chocolate over a pan of simmering water. Pour the chocolate onto a baking tray lined with baking parchment. Draw lines of pink food colouring across the chocolate with a cocktail stick and swirl, to create a marbled effect. Allow to cool and set in the fridge.

Remove the cakes from the oven and allow to cool completely. Loosen the edges with a knife and turn out onto a cooling rack. Remove the baking parchment.

For the raspberry icing, sieve the raspberries into a bowl and discard the seeds. Beat the butter with the icing sugar with a spoon until combined and fluffy. Add the raspberry puree and mix to combine.

For the vanilla icing, beat the butter with the icing sugar and vanilla essence until combined and fluffy.

Place 1 of the sponges on a serving plate. Spread 1/3 of the raspberry icing over the sponge. Repeat the process with the next 2 sponges.

Spread 1/3 of the vanilla icing evenly over the top of the cake. Fill a piping bag with a 1cm plain nozzle and add the remaining icing. Randomly pipe the icing between the cake layers. Then use a palette knife to spread and smooth the icing to form a naked cake look.

For the raspberry drippy top, sieve the raspberries into a bowl and discard the seeds. Add the raspberry puree to the icing sugar and mix to combine. Spoon the raspberry icing into the centre of the cake. Use a palette knife to help ease the icing over the top and sparingly down the sides of the cake, to create a drippy effect.

To decorate the cake, top with raspberries. Break the marbled chocolate into pieces and place between the raspberries. Slice and serve.