Preparation Time: 10 minutes
Cooking Time: 25 minutes, plus cooling time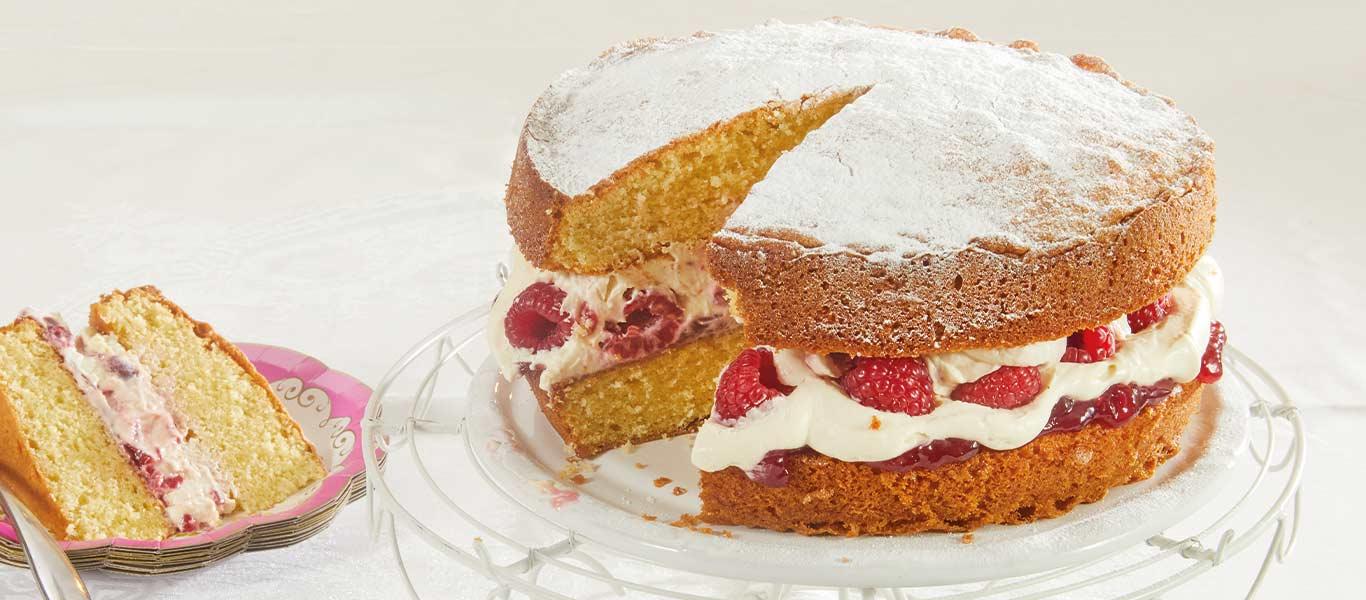 Ingredients
200g softened butter, plus extra for greasing
200g caster sugar
4 eggs
2 tbsp vanilla extract
200g self-raising flour
2 tsp baking powder
300ml double cream
300g seedless raspberry jam
175g raspberries
1 tbsp icing sugar
Method
Preheat the oven to 190°C, fan 170°C, gas mark 5. Grease and line the base of 2 x 20cm cake tins.

Tip the softened butter and sugar into a large bowl and beat until combined and light in colour.

Add the eggs one at a time, beating between each one, then add half the vanilla extract and beat once more.

Sift the flour and baking powder over the mixture and gently fold in until totally combined.

Divide between the 2 cake tins and tap to settle the batter. Place in the oven to bake for 20-25 minutes until golden brown and risen – they will spring back in the centre when pressed gently.

Remove, cover with a clean tea towel and allow to cool in the tin for 10 minutes before decanting and cooling totally, ideally on a wire rack.

Meanwhile, pour the double cream into a bowl, add the remaining 1 tbsp vanilla extract and whisk until soft peaks appear.

Place one half of the sponge onto a serving plate and top with half the raspberry jam. Spread half the whipped cream over the jam then layer the raspberries over the top.

Add the remaining jam to the cream and fold together then spread over the raspberries.

Settle the second sponge on top gently, then dust with icing sugar and serve.