Preparation Time: 20 minutes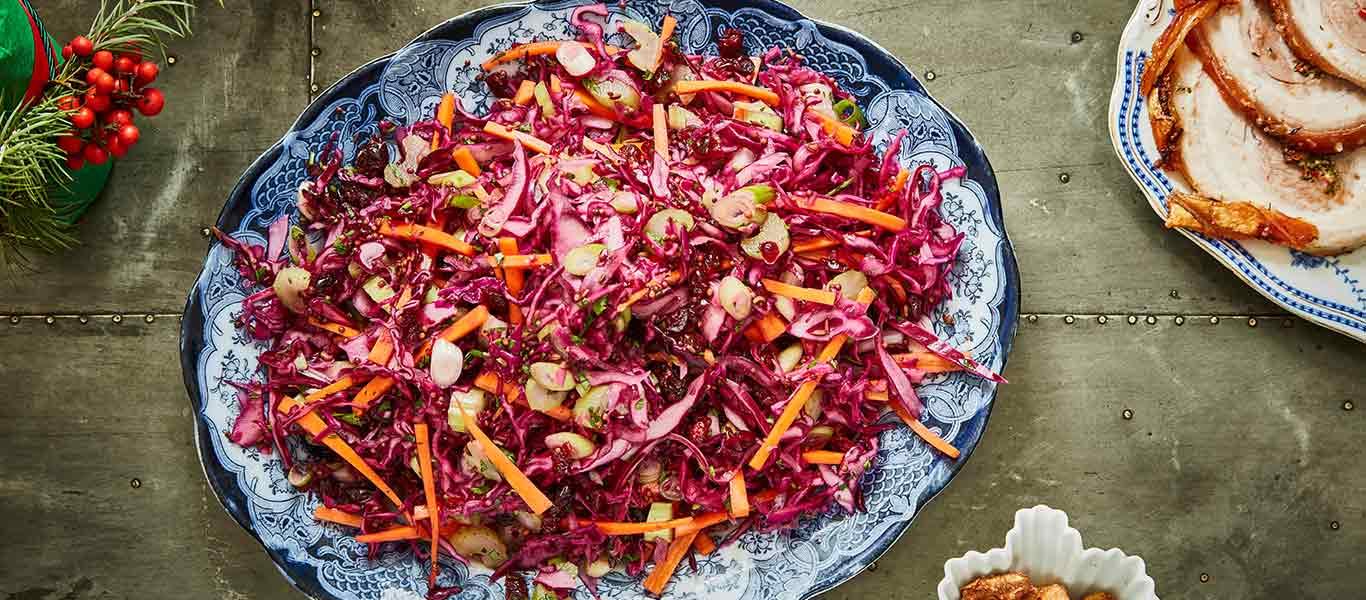 Ingredients
For the candied nuts:
300g mix of walnuts, blanched whole almonds & unsalted cashew nuts
2 tbsp light soft brown sugar
3 tbsp maple syrup
1 tsp cinnamon
For the slaw:
1 tbsp yellow mustard seeds
1 tbsp fennel seeds
150ml cider vinegar
2 tbsp caster sugar
450g red cabbage
2 large carrots, peeled
3 celery sticks, peeled
1/2 bunch spring onions
75g dried cranberries
bunch finely chopped flat leaf parsley
sea salt flakes and freshly ground black pepper
Method
Preheat the oven 190°C/170°C Fan/Gas Mark 5. To make the candied nuts, mix the nuts with the sugar, maple syrup and cinnamon. Place on a baking sheet lined with baking parchment and roast for 10-15 minutes. Remove from the oven and stir. Place back in to the oven for a further 3-5 minutes, or until golden. Allow to cool.

Toast the mustard and fennel seeds in a dry frying pan for 1-2 minutes or until you hear the seeds pop. Add the vinegar and sugar and stir until dissolved. Turn up the heat and simmer for 2-3 minutes. Remove from the heat and cool.

Shred the cabbage finely on a mandolin and place in a serving bowl. Cut the carrots into thin sticks and add to the cabbage. Finely slice the celery and spring onions and add to the cabbage. Finally, add the cranberries and parsley. Pour over the dressing and season. Toss to combine. Serve with the candied nuts.