Desserts Red Velvet and Chocolate Ice Cream Sundae
---
Serves : 4 Large or 8 Small (FYI - Cake Mix serves 16)
Preparation Time: 10 minutes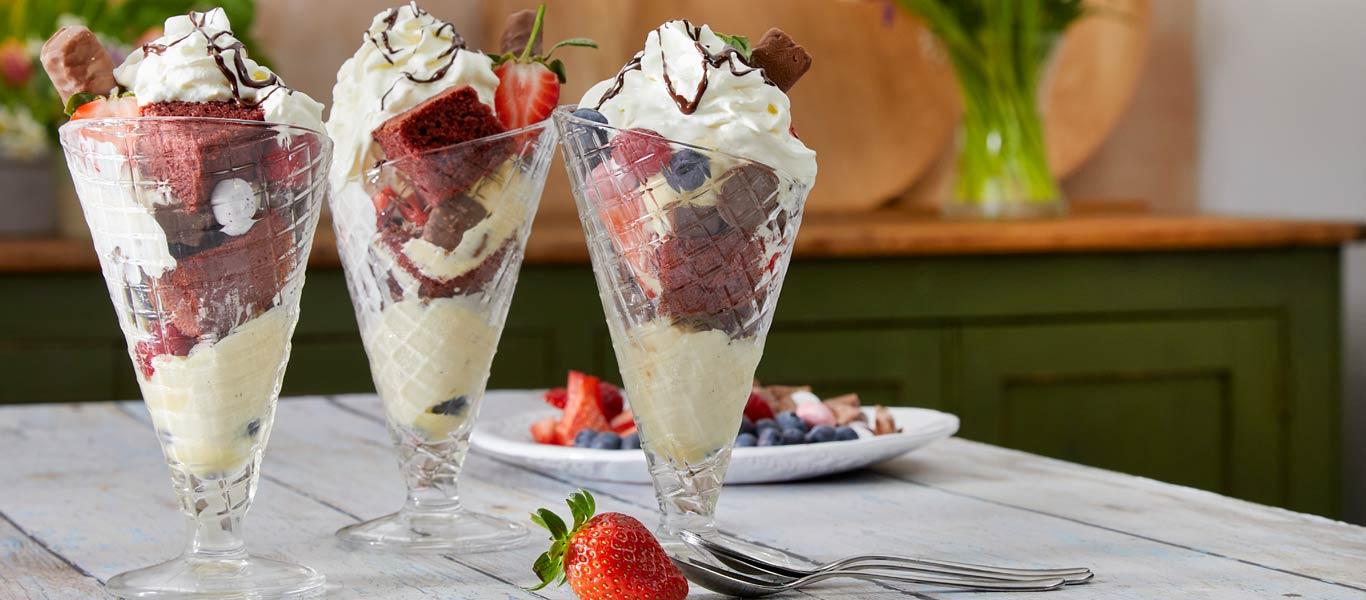 Ingredients
1 x 450g red velvet cake mix
105ml vegetable oil
3 eggs
200g vanilla ice cream
320g mixed berries – strawberries, raspberries and blueberries
160g mixed chocolates – buttons, chocolate mini eggs, chocolate popping candy, munchies,
4 squirts "squirty cream" or 100ml whipping cream, lightly whipped
4 single chocolate caramel biscuit fingers
Nutrition
Calories column
Fat column
Saturates column
Sugars column
Salt column

Calories
351

per serving

18%

%GDA

Fat
20g

per serving

29%

%GDA

Saturates
11g

per serving

55%

%GDA

Sugars
31g

per serving

34%

%GDA

Salt
0.50g

per serving

8%

%GDA
Method
Preheat the oven to 180°C, fan 160°C, gas mark 4 and grease and line a traybake tin about 23cm x 30cm.

Tip the cake mix into a bowl, add the oil, eggs and 200ml water and beat well until totally smooth.

Pour into the prepared tray and bake for 20 minutes until the cake has risen and springs back when you press it lightly. 4. Remove and allow to cool totally before decanting.

Cut the cake into 4 quarters, and set 3 quarters aside to use later. Cut the remaining quarter into 12 pieces.

Grab 4 large or 8 small glasses and divide half the ice cream between them. Add a few berries, piece of cake, then layer up the berries and chocolates, then repeat the layers, finishing with a dollop of cream, chocolate caramel biscuit and piece of strawberry.

Serve straightaway.