Preparation Time: 10 minutes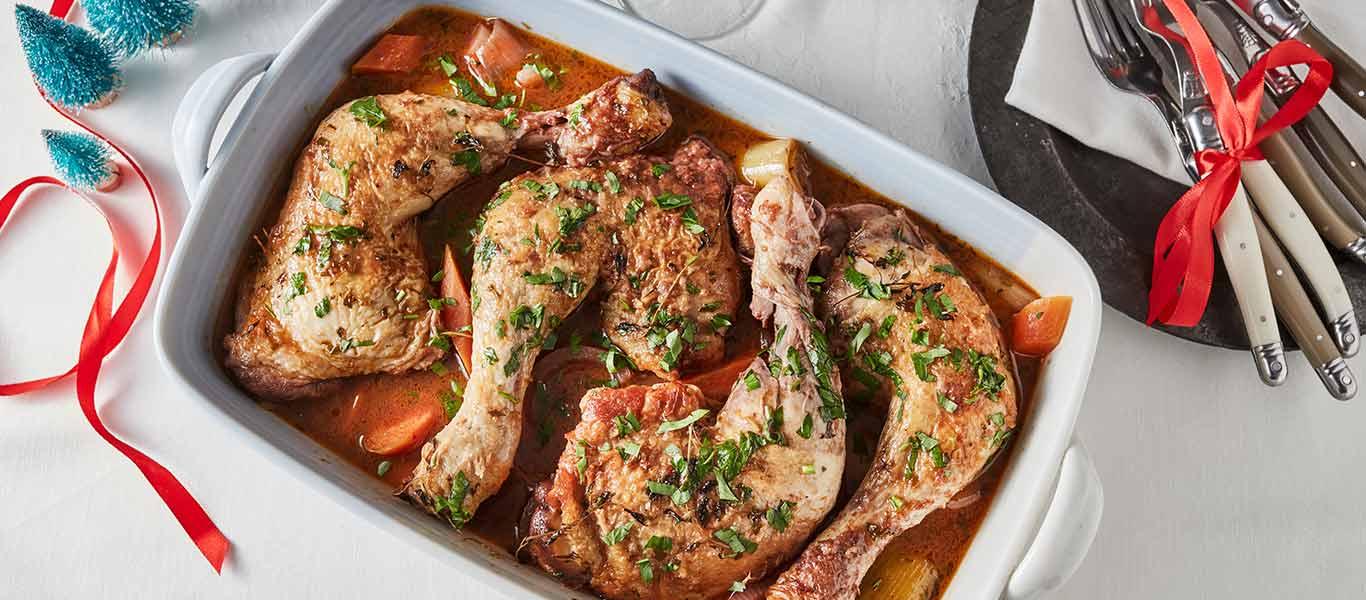 Ingredients
4 chicken legs
2 tbsp plain flour
Sea salt and freshly ground black pepper
1 tbsp vegetable oil
1 onion, thickly sliced
2 tsp roughly chopped thyme leaves, plus
6 sprigs
1 tbsp tomato puree
2 leeks, cut into large chunks
2 large/4 medium carrots, peeled and cut into large chunks
1 chicken stock pot/stock cube
300ml McGuigan Reserve cabernet sauvignon
1 x 600g ready made mashed potato
2 tbsp flat leaf parsley, roughly chopped
Method
Preheat the oven to 200°C, fan 180°C, gas mark 6.

Dust the chicken legs with the flour, salt and black pepper then shake to remove any excess.

Heat a large ovenproof dish until hot. Add the oil and fry the chicken on each side until golden brown and just crispy. Remove and place onto a plate.

Add the onion and cook for 5 minutes then stir in the chopped thyme and tomato puree and fry for 2 minutes.

Add the leeks and carrots and fry for 1 minute then add the chicken stock pot then add 300ml water and bring to the boil.

Add the red wine, stir well then place the browned chicken on top of the vegetables.

Cover with a lid and place in the oven to braise for 45 minutes until the chicken is cooked through.

Meanwhile, heat the mashed potato according to pack instructions.

Stir half the parsley into the chicken then serve with the mashed potato. Scatter the remaining parsley over the top.