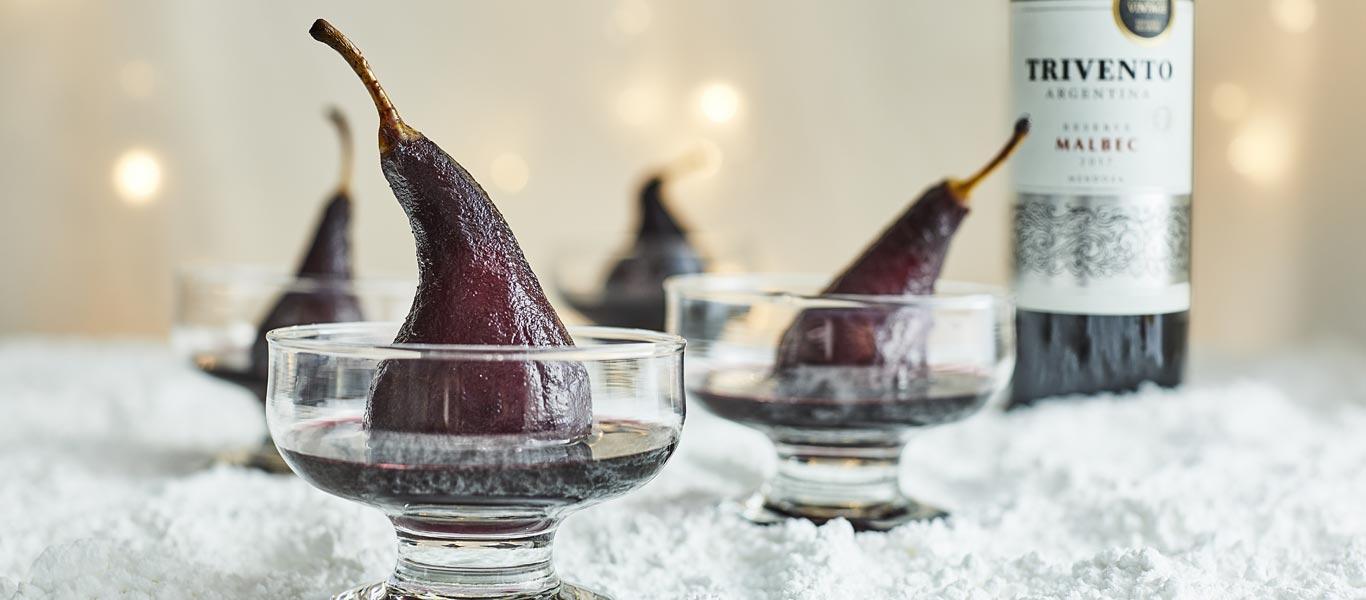 Ingredients
4 conference pears
750ml Trivento Reserve Malbec red wine
150g caster sugar
2 cinnamon sticks
2 star anise
Peel from ½ lemon
Peel from ½ orange
4 tbsp crème fraiche
Nutrition
Calories column
Fat column
Saturates column
Sugars column
Salt column

Calories
424

per serving

21%

%GDA

Fat
6g

per serving

9%

%GDA

Saturates
4g

per serving

20%

%GDA

Sugars
54g

per serving

60%

%GDA

Salt
0.01g

per serving

1%

%GDA
Method
Peel the pears, leaving the stalk intact, then trim the bottom of the pear so that it will sit upright.

Pour the red wine into a medium saucepan, (the pears need to be covered in the liquid) then add the sugar, cinnamon sticks, star anise, lemon and orange peel and bring to a simmer.

Add the pears, return to a simmer then cover and poach gently for 15-20 minutes until tender and infused with the red wine.

Remove from the heat and lift the pears out of the syrup into serving dishes.

Return the pan to the heat and bring to the boil then cook for 10 minutes until reduced by half and thickened.

Pour the liquid over the pears and serve straightaway with a dollop of crème fraiche.

Otherwise, decant into a sealable container, allow to cool and refrigerate until needed. Serve cold.