Desserts Rhubarb & Orange Baked Cheesecake
---
Preparation Time: 30 mins + 8-10 hours chilling time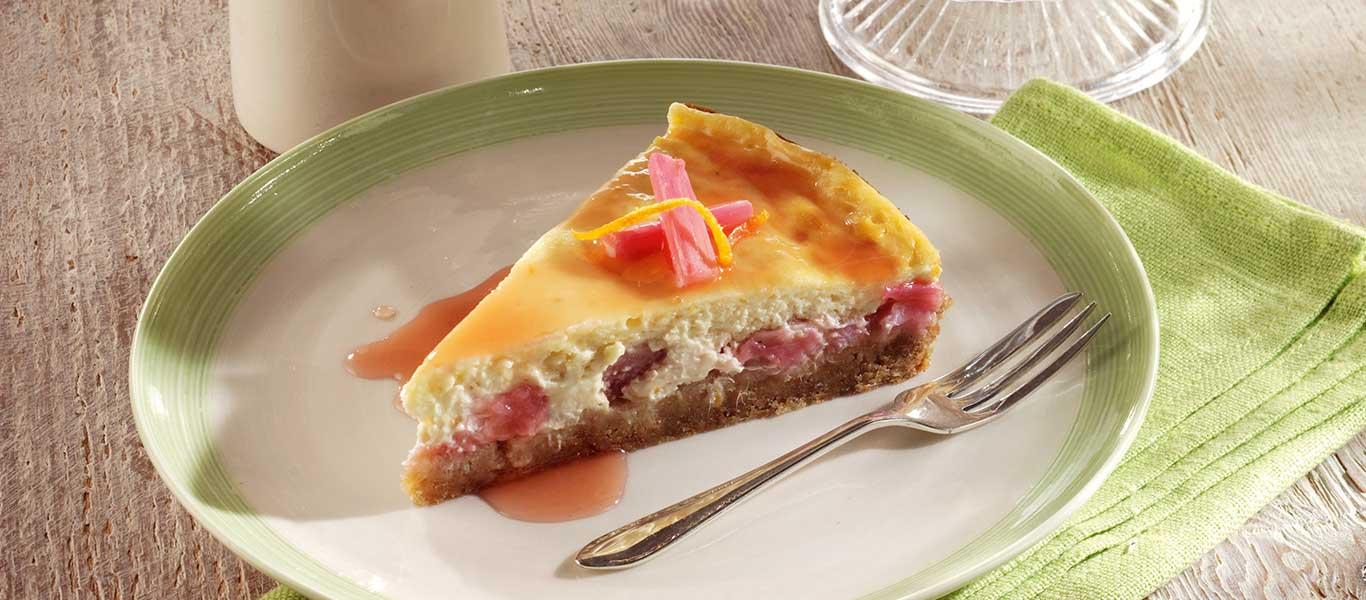 Ingredients
For The Base
150g McVitie's Digestive Biscuits
50g melted unsalted butter
For the Filling
400g rhubarb, cut into 2cm pieces
100g caster sugar
300g cream cheese
2 large eggs
1 large egg yolk
1tsp vanilla extract
1tbsp cornflour
Zest and juice of 2 oranges
150ml sour cream
Method
You will need a 20cm spring form cake tin lined with parchment paper.
Place the biscuits into a food processor and process until you have a fine crumb. Tip into a bowl and mix in the melted butter. Press the mixture into the base of the prepared cake tin and put into the fridge to chill for 4-5 hours or over-night.

Place 50g of the caster sugar, the juice from the oranges and 2 tbsp of water into a sauce pan and bring to a simmer. Add the rhubarb and cook gently for 10 minutes. Strain the liquid from the fruit, keeping the juices and leave fruit and juice to cool separately.

Pre-heat the oven to 180°C / Fan 160°C / Gas Mark 4. Place the remaining caster sugar into a large mixing bowl with the eggs and egg yolk and vanilla extract. Whisk until light and fluffy. Mix in the cream cheese, cornflour, orange zest and sour cream until the mixture is thick and smooth.

Place the cooked rhubarb evenly over the biscuit base. Spoon the cheese filling on top of the fruit. Tap the tin on the work surface to remove any air pockets and bake in the middle shelf of the oven for 15 minutes, then turn the oven down to 150°C / Fan 130°C / Gas Mark 2 for a further 25 minutes. The outside of the cheesecake should be firm and the centre should have a slight wobble.

Remove from the oven and run a wet palette knife around the edge then leave to cool. Refrigerate for 4-5 hours or ideally overnight before cutting.

Place the remaining juices left from cooking the rhubarb into a small saucepan, bring to the boil and reduce until you have a syrup. Chill and serve drizzled over the cheesecake.