Preparation Time: 15 minutes
Cooking Time: 1hour 20 minutes plus 10-15 minutes resting time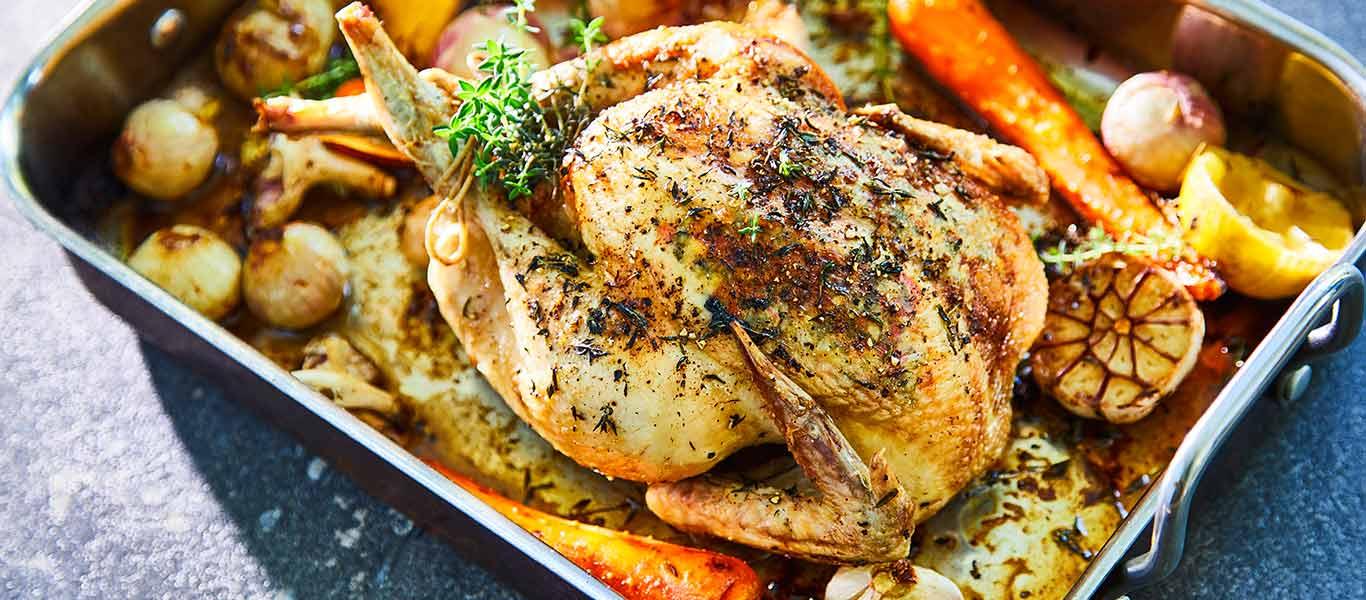 Ingredients
1 x 1.35 whole chicken
25g unsalted butter, softened
thumb size piece of ginger, peeled and grated
1 small red chilli, de-seeded and finely chopped
1 tsp thyme leaves, plus a few sprigs & a small bunch, to garnish
1 lemon
salt and freshly ground black pepper
4 medium carrots, peeled and trimmed
olive oil, to drizzle
8 shallots, peeled and halved if large
2 garlic bulbs, halved horizontally
Method
Preheat the oven to 200°C/Fan180°C/Gas Mark 6. Remove the packaging and string from the chicken. Re-tie the legs together with string, optional. Mix the butter, ginger, chilli, thyme leaves, 1 tsp lemon zest and seasoning. Lift the chicken skin away from the chicken breast and divide the butter equally underneath on both sides.

Place the carrots in a large roasting tin. Add the chicken. Halve the lemon and squeeze half the juice over the chicken. Place in the roasting tin. Drizzle the chicken and carrots with olive oil. Season and place the thyme sprigs on top of the chicken.

Roast the chicken in the oven for 1 hour 20 minutes. After 30 minutes cooking time add the shallots and garlic. Baste the chicken and vegetables.

Remove the chicken from the oven. Check the juices run clear by piercing the chicken between the thigh and leg. If the juices are not clear continue cooking for a further 5-10 minutes. Check again to make sure the juices run completely clear. Place on a carving board with the carrots, shallots and garlic. Garnish with a bunch of thyme. Cover with foil and allow to rest for 10-15 minutes before carving. Pour the roasting juices into a warmed jug.