Preparation Time: 10 minutes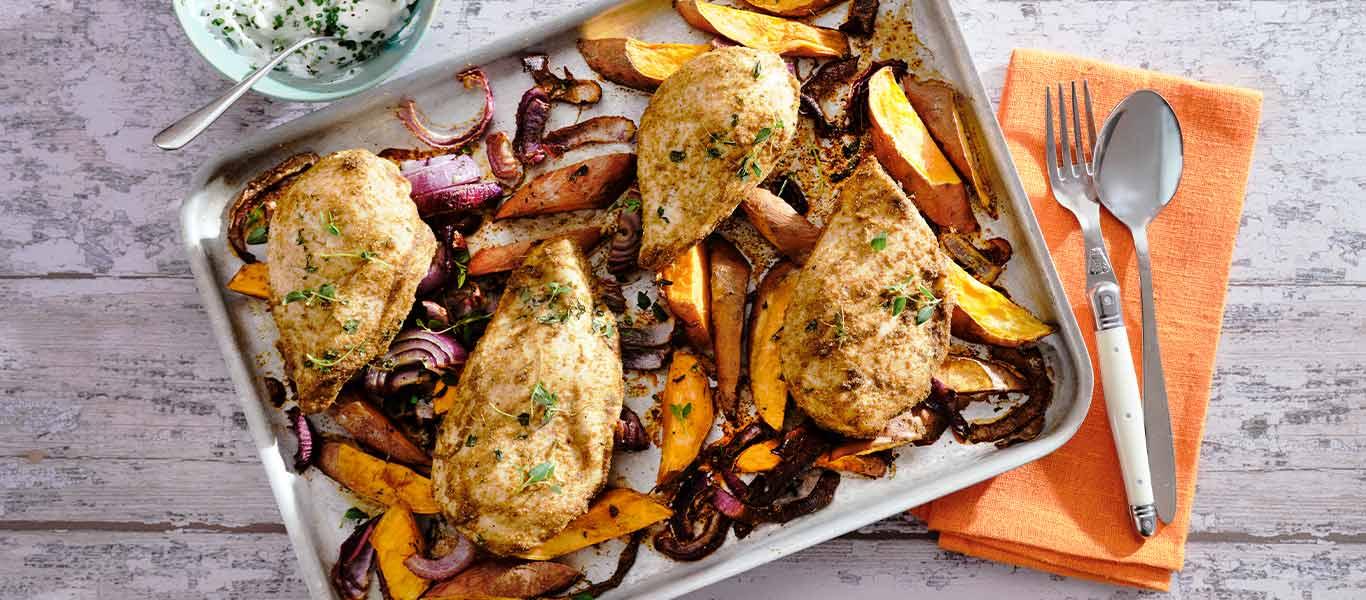 Ingredients
2 red onions, thickly sliced
4 sweet potatoes, scrubbed and cut into wedges
2 tbsp olive oil
2 tsp ground cumin
2 tsp ground coriander
2 tbsp thyme leaves
Freshly ground black pepper
4 boneless skinless chicken breasts, cut into large chunks
100g 0% fat Greek yoghurt
1 tbsp finely chopped chives
Nutrition
Calories column
Fat column
Saturates column
Sugars column
Salt column

Calories
454

per serving

23%

%GDA

Fat
9g

per serving

13%

%GDA

Saturates
2g

per serving

10%

%GDA

Sugars
16g

per serving

18%

%GDA

Salt
0.70g

per serving

12%

%GDA
Method
Preheat the oven to 200°C, fan 180°C, gas mark 6.

Place the onions and sweet potatoes into a shallow sided baking tray. Pour the half the oil, cumin, coriander and 1 tbsp thyme over the top and toss until coated.

Pour the remaining oil into a large bowl then add the rest of the cumin and coriander and 1 tsp thyme and season with black pepper. Stir around then add the chicken and toss until coated in the spices.

Set the chicken on to the tray and place in the oven to bake for 25-30 minutes until the chicken is cooked through and the sweet potato tender.

Meanwhile, tip the yoghurt into a bowl. Add the chives and black pepper and stir together.

Divide the chicken and potatoes between serving plates, top with the rest of the thyme and serve with a spoonful of yoghurt.