Preparation Time: 20 minutes
Cooking Time: 1 1/2 hours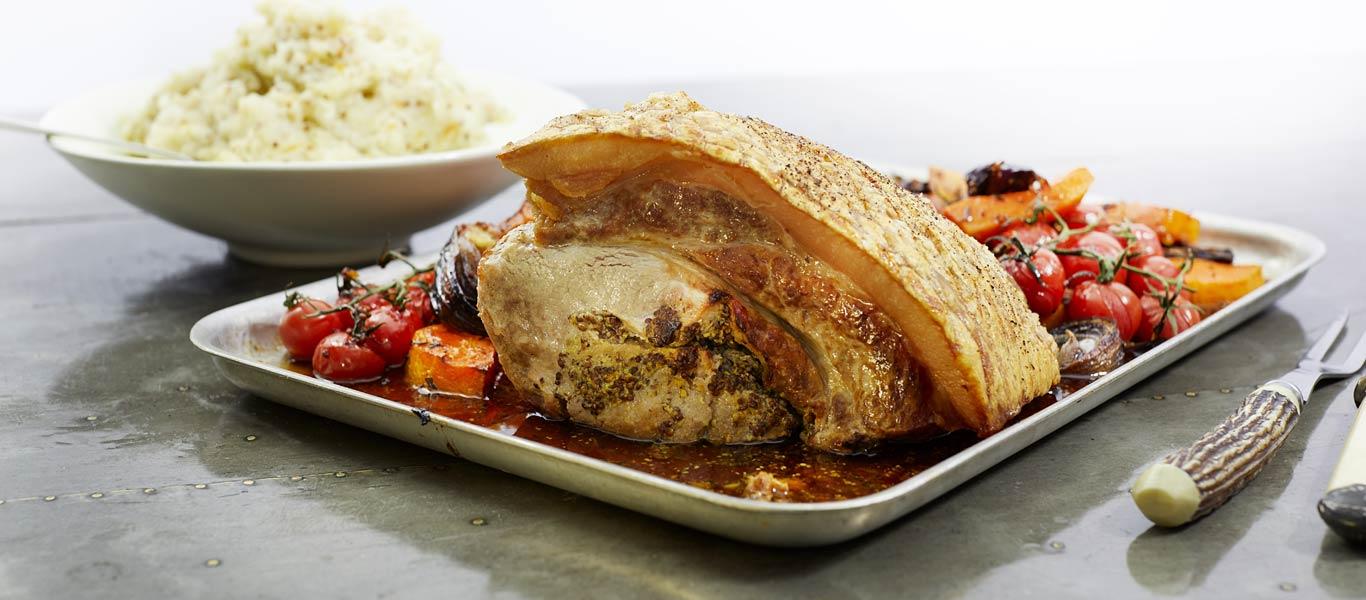 Ingredients
1.5kg pork loin roasting joint
5 tbsp grainy mustard
2 tsp vegetable oil
Sea salt and freshly ground black pepper
1 medium (800g) butternut squash, peeled, cut into chunks and seeded
2 red onions, cut into large wedges
1 tbsp thyme leaves
320g cherry tomatoes on the vine
800g ready made mashed potato
1 orange, zested
Nutrition
Calories column
Fat column
Saturates column
Sugars column
Salt column

Calories
548

per serving

27%

%GDA

Fat
16g

per serving

23%

%GDA

Saturates
6g

per serving

30%

%GDA

Sugars
13g

per serving

14%

%GDA

Salt
1.85g

per serving

31%

%GDA
Method
Preheat the oven to 230°C, fan 210°C, gas mark 8 and set a kettle to boil.

Score the fat on the pork loin using a really sharp knife then turn over and place skin side down on the board. Carefully cut the pork in half horizontally then slice open the end so you have one large piece of pork.

Spread 3 tbsp of the grainy mustard over the flesh then fold the pork back up, ending up with the skin side uppermost. Place onto a rack set over a sink or bowl.

Tip the kettle over the top, letting the water drain away, then dry the pork with kitchen roll. Place onto a roasting tray and season with 1 tsp vegetable oil, salt and black pepper, then place into the oven and roast for 20 minutes.

While the pork roasts, prepare the veg. Tip the butternut squash and onions into a roasting tray and drizzle with the remaining veg oil and thyme leaves, then season with salt and black pepper.

Turn the oven down to 200°C, fan 180°C, gas mark 6, add the butternut squash tray and continue to cook for a further 1-1¼ hours until the crackling is crispy and the meat and vegetables are tender.

Remove the pork and set to one side to rest. Add the cherry tomatoes to the butternut squash tray and return to the oven to roast for another 10 minutes.

While the veg roasts, prepare the mash. Heat according to packet instructions, then stir in the last 2 tbsp grainy mustard and zest the orange over the top. Stir well, adding a little orange juice if the mash is too thick.

Serve the pork joint with the roasted veg and mash alongside.