Preparation Time: 15 minutes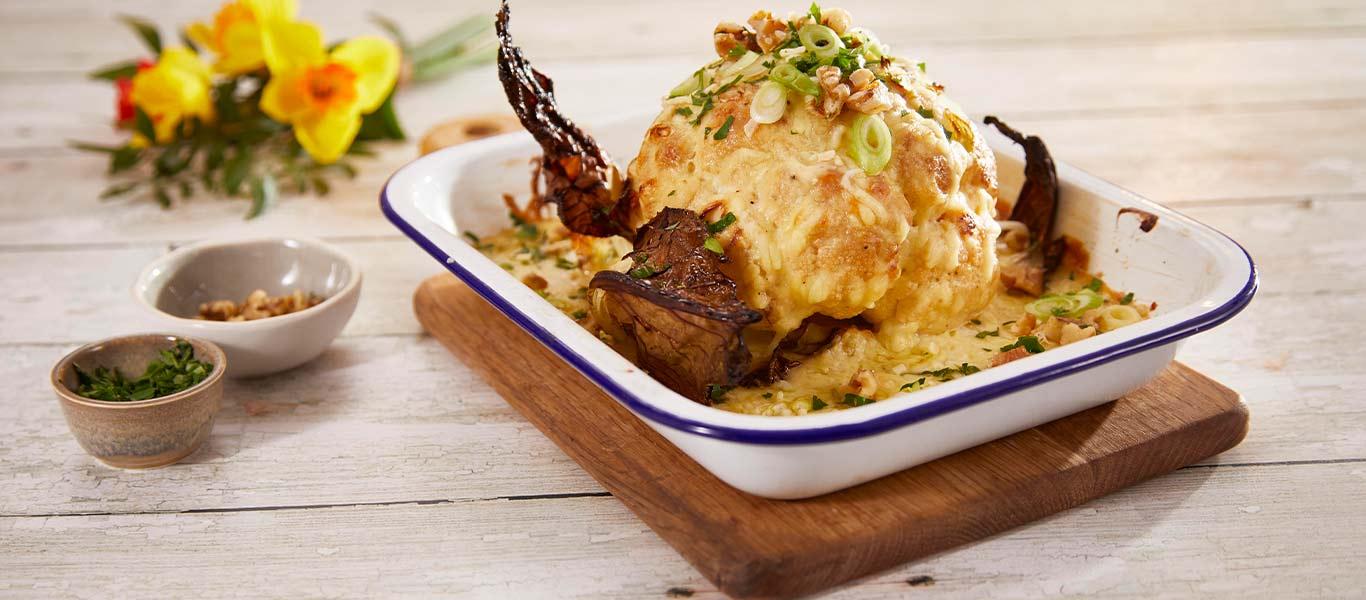 Ingredients
1 medium cauliflower with leaves
1 tbsp olive oil
Sea salt and freshly ground black pepper
1 x 400g Dolmio creamy white lasagne sauce
180g grated mature cheddar cheese
2 spring onions, finely sliced
2 tbsp roughly chopped walnuts
1 tbsp roughly chopped parsley
Method
Preheat the oven to 200°, fan 180°, gas mark 6.

Carefully ease the leaves away from the base of the cauliflower and cut through the root so that you have the leaves and root intact as a kind of cup. Cut the core base out of the cauliflower, making sure it still stays whole.

Place the leaf cup onto a shallow casserole dish then place the cauliflower on top, so it looks just like a whole cauliflower again.

Drizzle with the oil then season with salt and black pepper and place in the oven to roast for 30-45 minutes until just tender and just crispy at the edges. (This will depend on the size of the cauliflower – if large it will take longer than if a small one.)

Pour the sauce into a bowl, add 2/3 of the cheese and mix well then spoon over the top of the cauliflower. Scatter the remaining cheese and half the spring onions over the top and return to the oven to roast for another 30 minutes until golden brown and tender.

Scatter the spring onions, nuts and parsley on top and serve straightaway.