Preparation Time: 20 minutes
Cooking Time: 1 & 3/4 hours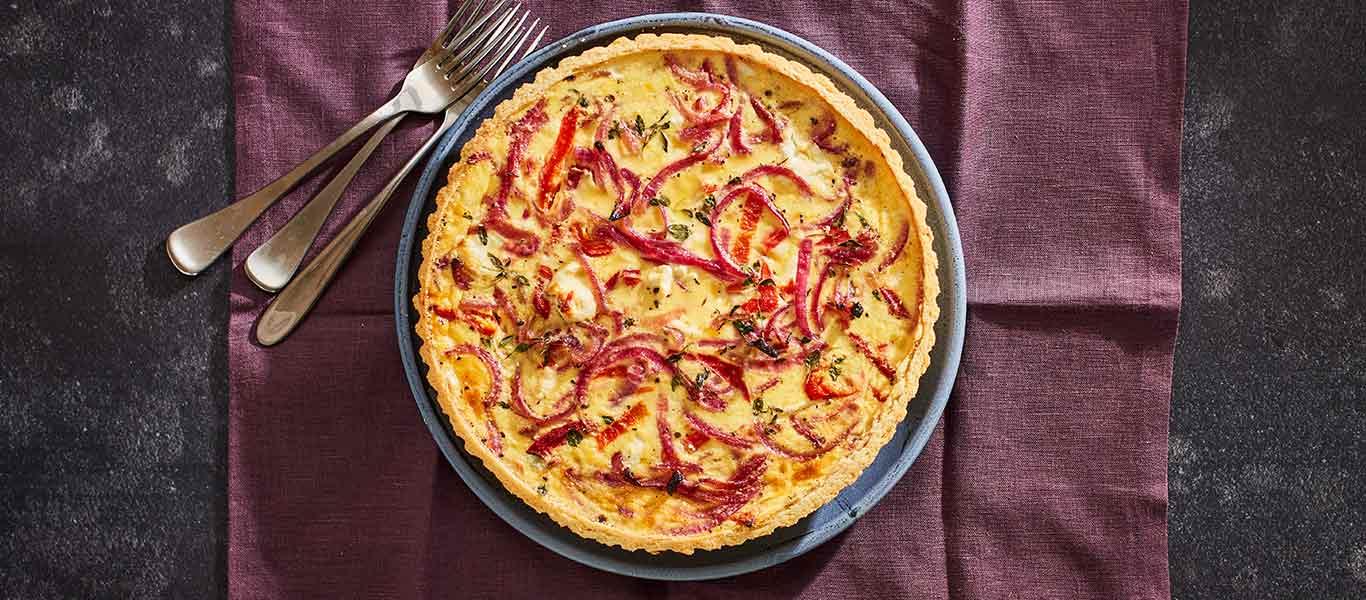 Ingredients
1 x 320g ready rolled short crust pastry, room temperature
1 tsp vegetable oil
1 red onion, sliced
½ lemon, juiced
4 eggs
200ml semi skimmed milk
freshly ground black pepper
100g soft goat's cheese, cut into small chunks
150g roasted red pepper, thickly sliced
4 sprigs thyme, leaves picked
1 x bag mixed salad leaves
Nutrition
Calories column
Fat column
Saturates column
Sugars column
Salt column

Calories
235

per serving

12%

%GDA

Fat
16g

per serving

23%

%GDA

Saturates
7g

per serving

33%

%GDA

Sugars
3g

per serving

3%

%GDA

Salt
0.55g

per serving

9%

%GDA
Method
Preheat the oven to 200°C, fan 180°, gas mark 6 and remove the pastry from the fridge while you wait for the oven to heat, you want it to be pliable and unroll without cracking. Lightly grease a deep sided 24cm loose bottomed tart tin.

Unroll the pastry and gently roll with a rolling pin into a square big enough to cover the tart case. Place paper side up into the tin and press into all the edges, then lift off the parchment paper. Leave the excess pastry hanging over the edges then prick the base with a fork.

Lay the parchment paper back lightly across the pastry and fill with dried rice or baking beans and place in the oven to bake for 20 minutes.

Take out of the oven and remove the baking parchment and rice/beans, then return to the oven for another 10 minutes until golden brown.

Meanwhile, heat a frying pan until medium hot. Add the oil and red onion and fry for a couple of minutes then cover with a lid and cook for 5 minutes until softened. Squeeze the lemon juice in then remove from the heat and set aside to cool.

Reduce the oven to 170°C, fan 150°C, gas mark 3.

Crack the eggs into a large bowl, add the milk and plenty of black pepper and whisk until combined.

Layer half the goat's cheese, pepper and red onions into the tart. Pour the egg mixture over them then layer the remaining goat's cheese, peppers and onions on top.

Scatter a little thyme over the top.

Place in the oven to bake for 50 minutes, until just set and golden brown. Remove and cool slightly, then cut into wedges and serve with a green salad.