Preparation Time: 10 minutes
Cooking Time: 3, 3/4 hours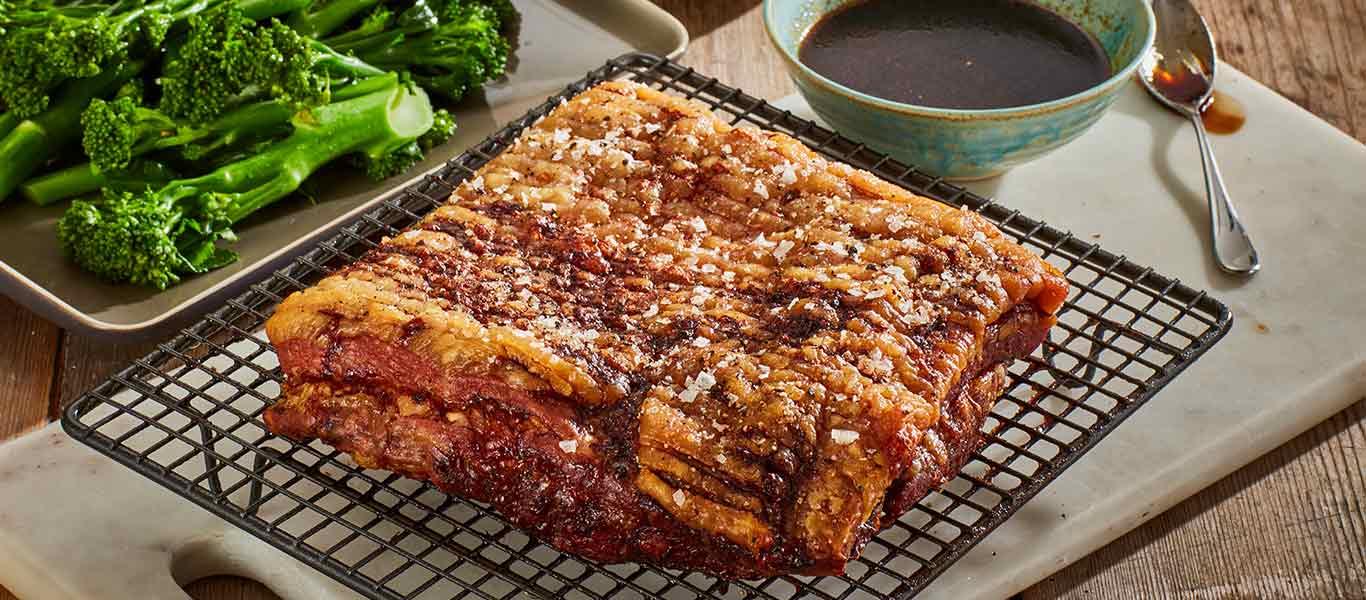 Ingredients
1.2kg pork belly, removed from the fridge and uncovered 1 hour before cooking
2 tsp vegetable oil
1 tsp sea salt
Freshly ground black pepper
3 tbsp hoisin sauce
3 tbsp light/reduced salt soy sauce
½ tsp Chinese five spice
1 tbsp honey
2 x 250g Uncle Ben's special roasted garlic rice
320g tender stem broccoli, trimmed
3 spring onions, finely sliced
Nutrition
Calories column
Fat column
Saturates column
Sugars column
Salt column

Calories
632

per serving

32%

%GDA

Fat
35g

per serving

50%

%GDA

Saturates
11g

per serving

55%

%GDA

Sugars
8g

per serving

9%

%GDA

Salt
2.80g

per serving

47%

%GDA
Method
Remove the pork from the outer packaging. Place on a plate and store in the fridge uncovered, for a couple of hours and ideally overnight. This will produce better crackling.

Preheat the oven to 230°C/210°C fan/gas mark 8. It's really important to make sure the pork is then at room temperature and as dry as possible before cooking.

Score the skin with a very sharp knife, into thin slices. Rub with the salt and add plenty of black pepper then place onto a rack sat over a deep sided roasting tin.

Place in the oven for 45 minute then turn the heat down to 180°C, fan 160°/c, gas mark 4. Roast for another 3 hours until the meat is tender and the crackling crispy.

Remove from the oven and allow to rest, uncovered, while you cook the rice and broccoli.

Meanwhile, pour the soy sauce, hoisin, soy sauce, five spice and honey into a bowl and mix well.

Heat the rice according to packet instructions. Bring a pan of salted water to the boil, add the broccoli and simmer for 3-4 minutes until just tender.

Drain and divide the broccoli, rice and char sui sauce between serving plates.

Carve the pork into slices and pile onto the plates and serve straightaway.