Preparation Time: 10 minutes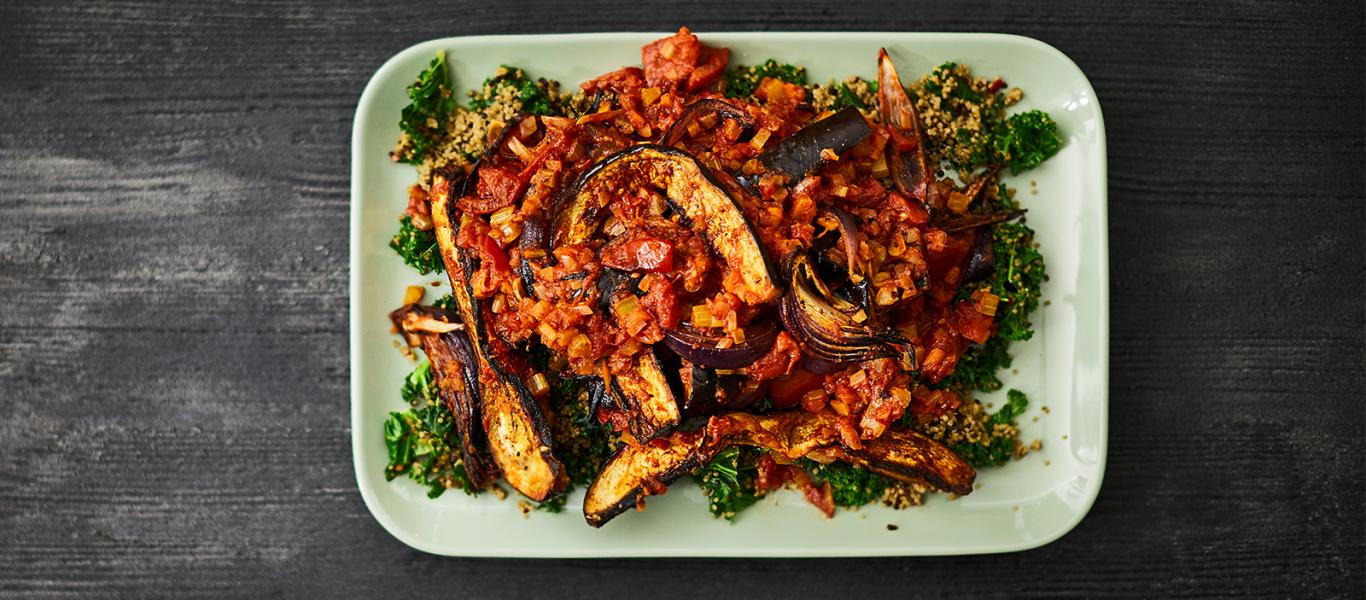 Ingredients
1 red onion, cut into wedges

1 large aubergine, cut into small chunks

2 garlic cloves, roughly chopped

2 medium tomatoes, cut into chunks

2 tsp vegetable oil

sea salt

freshly ground black pepper

1 tsp ground cumin

1 tsp ground coriander

½ tsp hot smoked paprika

1 onion, finely diced

2 sticks celery, finely diced

1 tsp tomato puree

1 x 400g tinned chopped tomatoes

80g kale, shredded

½ tsp crushed chilli flakes

1 x 250g Ready to Eat Red and White Quinoa
Method
Preheat the oven to 210C/fan 190C/gas 7.

Place the red onion, aubergine, garlic and tomato chunks onto a roasting tray and drizzle half the oil over the top. Toss to combine then season with salt and black pepper.

Mix the cumin, coriander and paprika together in a small bowl then scatter over the vegetables and toss together. Place into the oven to roast for 20-25 minutes until just browned around the edges.

While the veg roast, make the tomato sauce. Heat a frying pan or sauté pan until medium hot. Add the rest of the vegetable oil, the onion and celery and fry for 3-4 minutes until just softening.

Add the tomato puree and stir through then add the tinned tomatoes and bring to the boil. Turn the heat down, cover and simmer for 10-15 minutes until thickened.

Heat a separate frying pan until hot, add the kale and a splash of water steam cook, stirring occasionally. Add the chilli flakes then stir in the ready to eat quinoa and heat until hot through.

When the sauce is ready and roasted vegetables are tender, tip the veg into the sauce and heat through, mixing well.

Spoon the quinoa onto the plate and serve the aubergine stew alongside.
Free from dairy, nuts and wheat.