Preparation Time: 10 minutes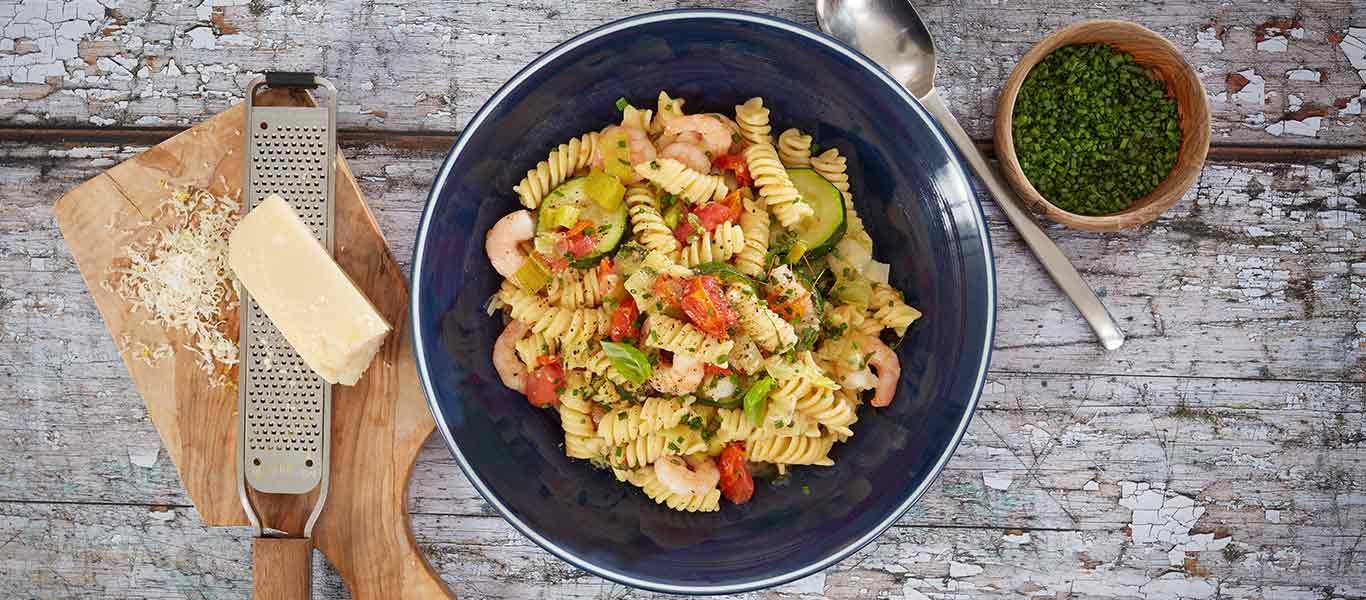 Ingredients
1 tsp olive oil
300g cherry tomatoes, halved
2 tsp roughly chopped thyme leaves
Sea salt and freshly ground black pepper
2 leeks, thickly sliced
2 courgettes, thickly sliced
2 garlic cloves, finely grated or crushed
¼ tsp dried chilli flakes
300g fusilli pasta
2 low salt vegetable stock cubes
850ml water
300g cooked king prawns
1 lemon, zested
2 tbsp freshly grated parmesan
3 tbsp roughly chopped basil leaves
3 tbsp finely chopped chives
Method
Preheat the oven to 200°C, fan 180°C, gas mark 6.

Tip the tomatoes onto a baking tray, cut side up, then scatter the thyme over the top and season with salt and black pepper.

Place in the oven to roast for 15 minutes.

Meanwhile, heat a large sauté pan until medium hot. Add the oil, onion and leeks and sweat over a medium heat for 5 minutes until just softened.

Add the garlic, chilli flakes and pasta and stir to combine, then crumble the stock cubes over the top.

Pour 850ml hot water into the pan and stir really well.

Cover with a lid and bring to the boil, then turn the heat down and simmer for 8 minutes.

Remove the lid, stir well and add the courgettes. Stir once more then cover and simmer gently for another 3-4 minutes. (Check that the pasta is not boiling to hard and the liquid reducing before the pasta is cooked.)

By now, the liquid should be reduced and the pasta nearly cooked. Stir in the prawns, lemon zest and parmesan and cook for another couple of minutes until the prawns are hot through and the pasta tender.

Season to taste, then stir in the roasted tomatoes, ¾ of the basil and chives and serve topped with the remaining herbs.