Preparation Time: 10 minutes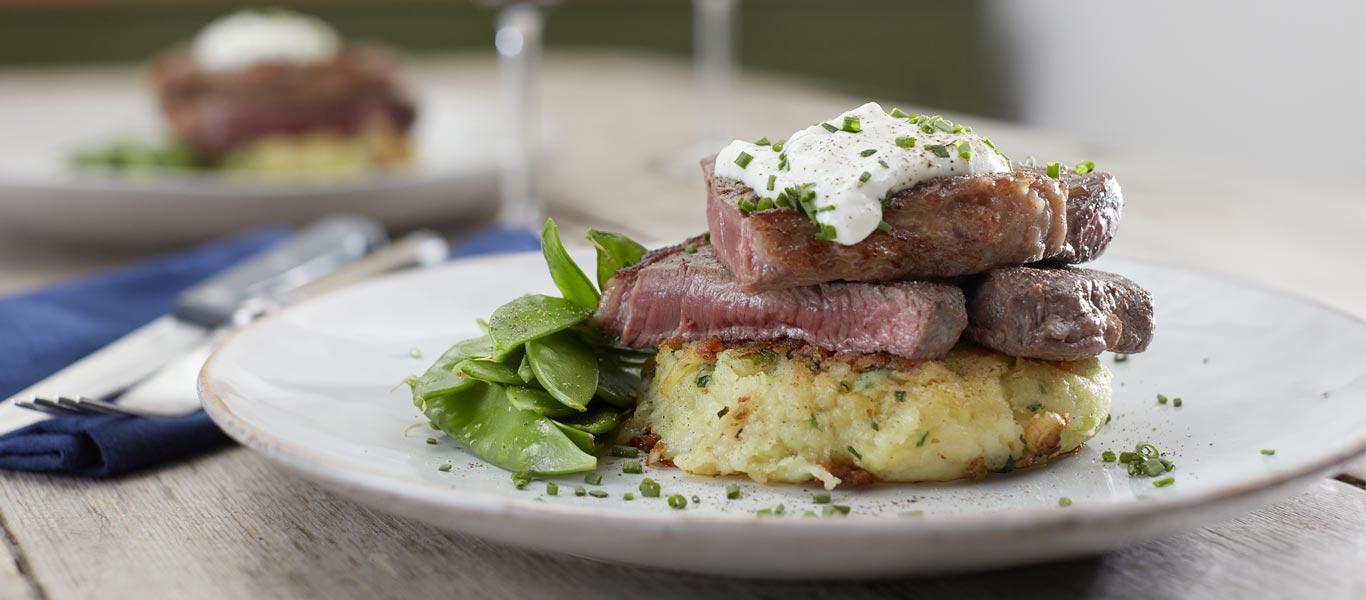 Ingredients
2 baking potatoes, scrubbed
4 spring onions, roughly chopped
2 tbsp finely chopped chives
Sea salt and freshly ground black pepper
2 tsp plain flour
2 tsp vegetable oil
2 rump steaks, room temperature
80g mangetout
2 tbsp 0% fat Greek yoghurt
1 tbsp horseradish sauce
Nutrition
Calories column
Fat column
Saturates column
Sugars column
Salt column

Calories
514

per serving

26%

%GDA

Fat
12g

per serving

17%

%GDA

Saturates
4g

per serving

20%

%GDA

Sugars
6g

per serving

7%

%GDA

Salt
1.00g

per serving

17%

%GDA
Method
Place the potatoes into a small saucepan, add enough cold water to cover them, then place over a high heat and bring to the boil. Simmer for 10-15 minutes until just tender when pierced with a knife.

Drain and run under cold water until cool enough to handle.

Coarsely grate the potatoes, skin included, into a large bowl. Add the spring onions, half the chives and plenty of salt and black pepper. Mix together until it forms a sticky mixture.

Divide the mixture in half and form each piece into a rough patty shape then dust in the flour.

Set to one side while you cook the steak.

Heat a frying pan until hot. Rub the steaks with half the oil and season with salt and black pepper. Add the steaks and fry on each side for 3-4 minutes until cooked thorough to your liking.

Set aside on a plate to rest while you cook the rosti. Wipe the pan out and return to the heat. Add the last of the oil and the rosti and fry on each side for 3-4 minutes until golden brown and tender.

Meanwhile, bring a pan of water to the boil Add the sugar snap peas and cook for 2 minutes until just tender. Drain. Mix the yoghurt and horseradish sauce together and season with black pepper.

Divide the rosti between the serving plates, cut the steak in half then place on top. Pile the sugar snap alongside, spoon a dollop of horseradish on top then sprinkle the rest of the chives over the top and freshly ground black pepper.

Serve straightaway.