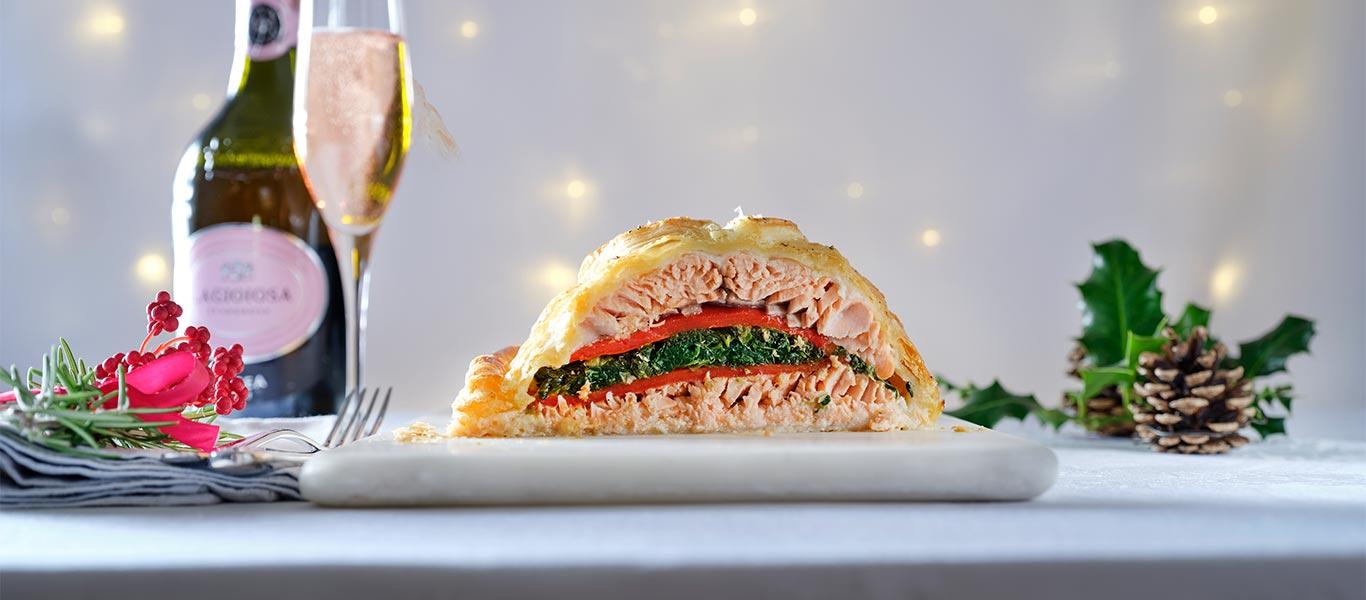 Ingredients
1 tbsp olive oil
8 spring onions, roughly chopped
250g baby spinach leaves, washed
2 x 320g ready rolled shortcrust pastry
900g salmon fillets, skinned
200g roasted red peppers, opened out
1 egg, beaten
600g new potatoes
Nutrition
Calories column
Fat column
Saturates column
Sugars column
Salt column

Calories
899

per serving

45%

%GDA

Fat
57g

per serving

81%

%GDA

Saturates
16g

per serving

80%

%GDA

Sugars
4g

per serving

4%

%GDA

Salt
1.10g

per serving

18%

%GDA
Method
Preheat the oven to 200°C, fan 180°C, gas mark 6 and remove the pastry from the fridge.

Heat a sauté pan until hot. Add 1 teaspoon olive oil and the spring onions and fry for 2 minutes until just softened. Add the spinach, stir once then cover with a lid and steam for 2 minutes until just wilted. Stir again then remove from the pan and place in a sieve or colander.

Set over a bowl and leave to cool.

Meanwhile, unroll one sheet of pastry onto a shallow/flat baking sheet.

Cut the salmon in half horizontally and lay half onto the centre of the sheet of pastry.

Lay half the peppers onto the salmon and season well.

Press any residual liquid out of the spinach and spread out across the peppers. Season again, then lay the rest of the peppers and the second piece of salmon over the top.

Brush the pastry with egg, then unroll the second sheet of pastry straight over the top of the salmon. Press down gently around the edge to seal, then trim any excess pastry off and set aside.

Brush all of the pastry with the beaten egg, then using the back of a fork, seal the edge of the pastry.

Cut holly leaves and a stem out of the excess pastry and place on top. Brush with egg wash then season with salt and black pepper.

Place in the oven to bake for 40 minutes until golden brown and the salmon is cooked through

While the salmon cooks, tip the potatoes into a saucepan, cover with water and bring to the boil. Simmer for 15-18 minutes until tender, then drain and toss with a little olive oil, salt and black pepper.