Preparation Time: 10 minutes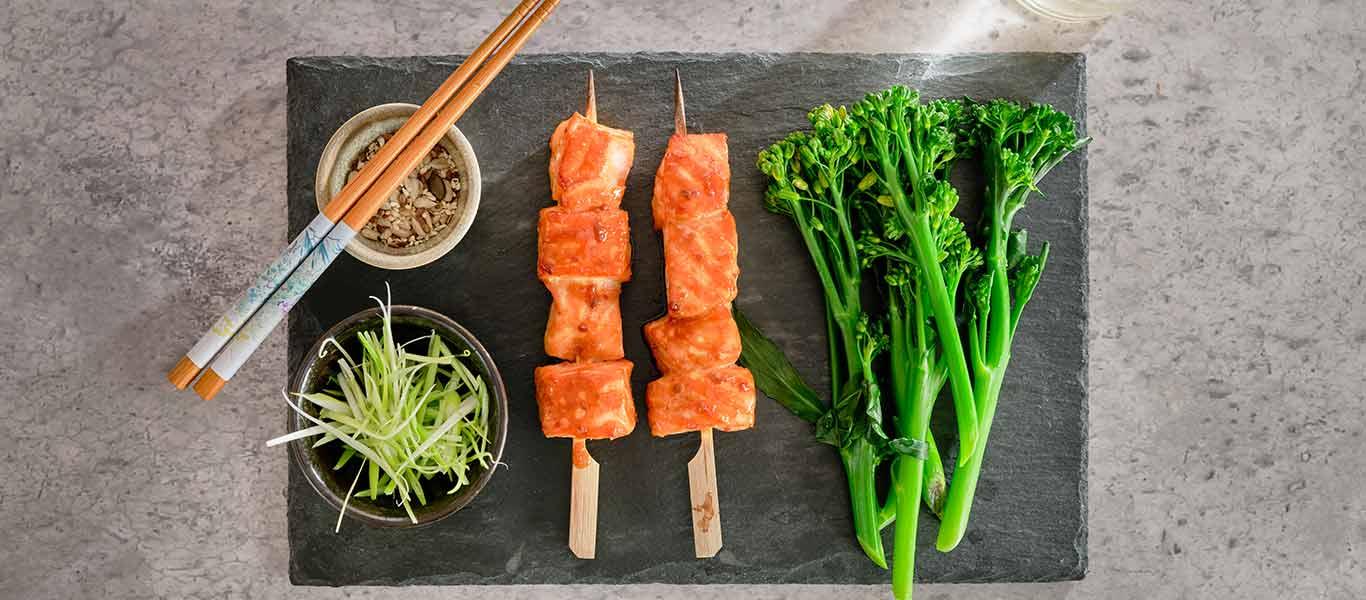 Ingredients
600g salmon fillet, cut into 2-3cm cubes
4 tbsp teriyaki sauce
320g tender stem broccoli
4 spring onions, finely sliced
1 tbsp sesame or mixed seeds
Nutrition
Calories column
Fat column
Saturates column
Sugars column
Salt column

Calories
418

per serving

21%

%GDA

Fat
25g

per serving

36%

%GDA

Saturates
5g

per serving

25%

%GDA

Sugars
10g

per serving

11%

%GDA

Salt
1.30g

per serving

22%

%GDA
Method
Soak 8 short wooden skewers in cold water for at least 30 minutes. Preheat the grill to medium high.

Tip the salmon into a bowl, then pour half the teriyaki sauce over the top and toss to coat.

Slide the salmon cubes onto the soaked wooden skewers then transfer to a foil lined baking tray. Spoon a little of the remaining teriyaki sauce over the top.

Place under the grill for 3-4 minutes, then turn over and grill for another 3-4 minutes until cooked through. Spoon the last of the teriyaki sauce over the top.

Meanwhile, bring a pan of salted water to the boil. Add the broccoli and simmer for 3-5 minutes until just tender.

Drain and serve alongside the salmon skewers, with the spring onions and seeds scattered over the top.