Desserts Salted Caramel & Chocolate Cake
---
Preparation Time: 10 minutes
Cooking Time: 50 minutes, plus cooling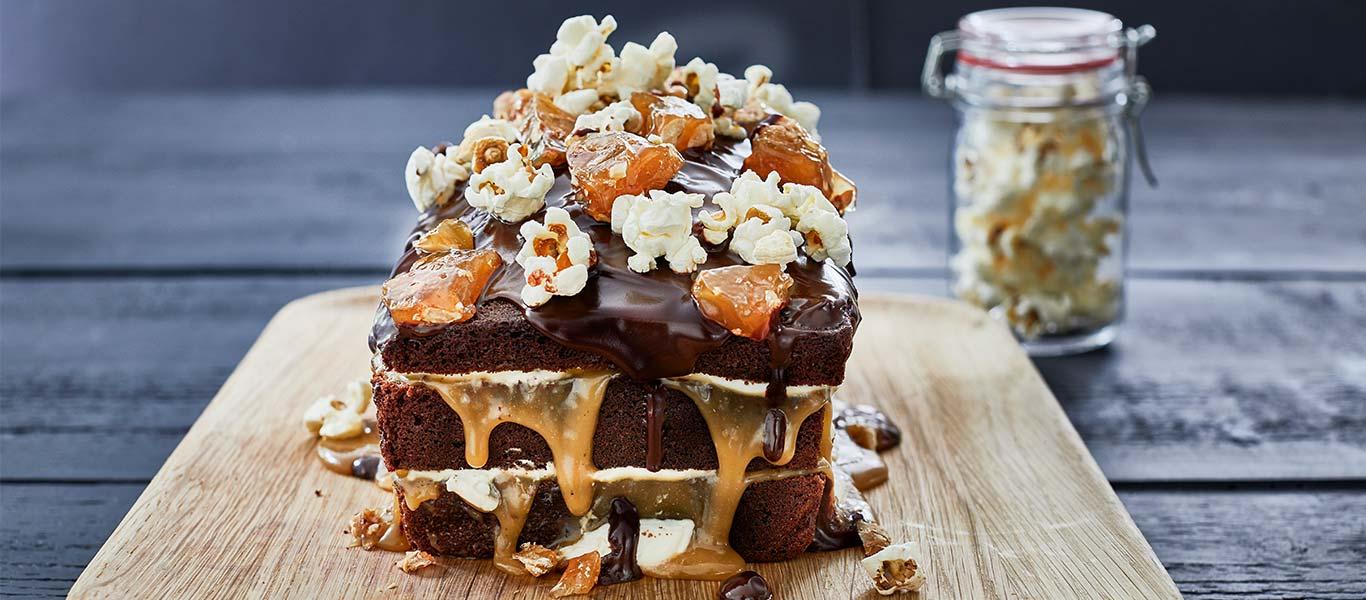 Ingredients
For Cake –
200g butter, plus extra for greasing
3 eggs
125ml milk
125g crème fraiche
200g self raising flour
50g cocoa
½ tsp bicarbonate of soda
200g light soft brown sugar
For Caramel –
75g light soft brown sugar
75g butter
½ tsp fine sea salt
250ml double cream
For Topping -
50g butter
100g dark chocolate (70% cocoa solids)
20ml double cream
80g peanut brittle, roughly chopped into large pieces
10g salty popcorn
Nutrition
Calories column
Fat column
Saturates column
Sugars column
Salt column

Calories
749

per serving

37%

%GDA

Fat
54g

per serving

77%

%GDA

Saturates
33g

per serving

165%

%GDA

Sugars
40g

per serving

44%

%GDA

Salt
1.30g

per serving

22%

%GDA
Method
Preheat the oven to 180°/fan 160°/gas mark 4. Butter a 1kg loaf tin and line the base with baking parchment.

Put the butter into a medium saucepan and heat gently until just melted, then remove from the heat and whisk in the eggs, milk and crème fraiche.

Sift the flour, cocoa and bicarbonate of soda into a large bowl then stir in the sugar and mix until combined.

Pour the butter mixture onto the flour and mix to a thick smooth batter, then pour into the lined baking tin.

Place in the oven to bake for 50 minutes until risen and just firm to the touch. Check that the cake is cooked through by inserting a skewer into the centre of the cake – if it comes out clean then the cake is ready, if not return and cook for another 5 minutes and repeat until the skewer is clean.

Remove and leave to cool in the tin before turning out onto a cooling rack and cooling completely.

While the cake cools, make the salted caramel. Place the sugar and butter into a frying pan and heat for 1 – 2 minutes until melted and just caramelizing. Add the salt and whisk in 125ml of the double cream then continue to cook, whisking occasionally, for another 3-5 minutes until thickened and golden brown. Remove from the heat and allow to cool.

Make the ganache. Place the butter and chocolate into a bowl set over a pan of simmering water. Leave to melt then remove from the heat and stir until smooth. Whisk in the cream and leave to cool slightly.

Finally, pour the remaining 125ml double cream into a large bowl and whisk until soft peaks are formed.

When the cake is totally cold, split into three layers horizontally, then place the bottom layer onto a serving plate. Spread a third of the salted caramel onto it then spoon and spread third of the double cream onto it.

Top with the next layer of cake then repeat with the caramel, cream and cake until fully layered up.

Spoon the cooled ganache over the top of the cake, allowing it to drizzle down the sides, then decorate with the peanut brittle and popcorn. Cut into slices to serve.