Preparation Time: 10 minutes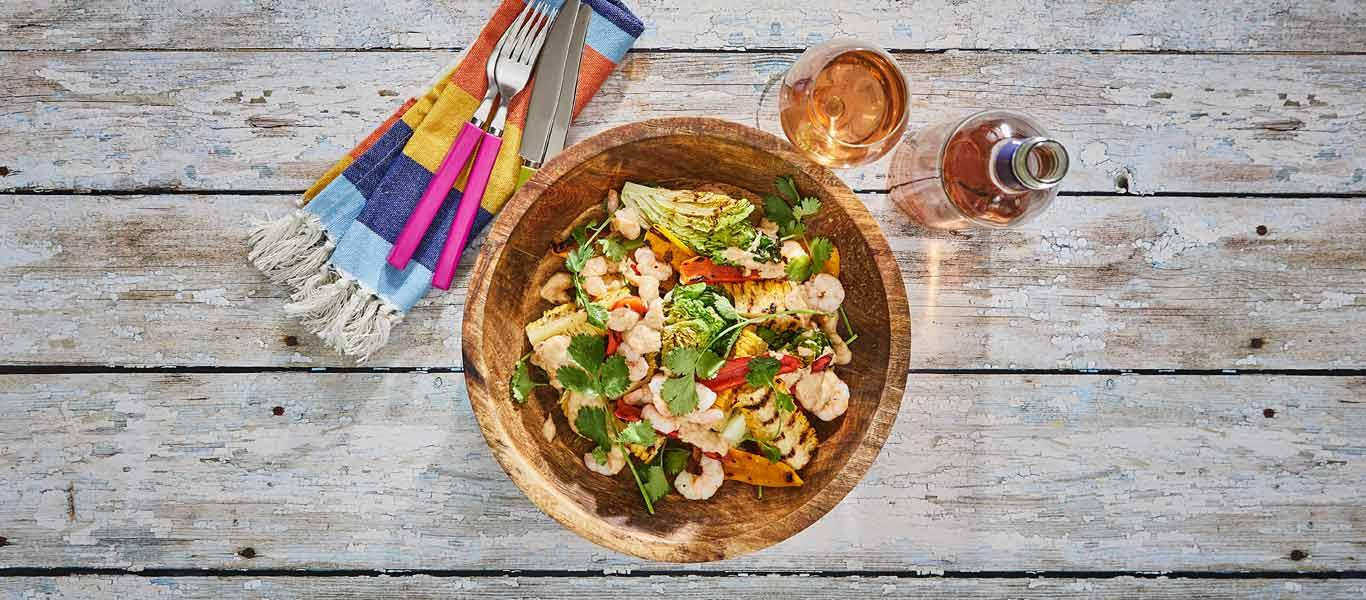 Ingredients
1 head little gem lettuce, cut into wedges
1 cooked corn on the cob, cut in half then lengthways into wedges
1 tsp olive oil
6 sweet bite peppers, seeded and cut into quarters
150g cooked king prawns
2 tbsp no added sugar or salt peanut butter
1 tbsp sweet chilli sauce
1 lime, zested and juiced
1 handful coriander sprigs
Nutrition
Calories column
Fat column
Saturates column
Sugars column
Salt column

Calories
228

per serving

11%

%GDA

Fat
11g

per serving

16%

%GDA

Saturates
3g

per serving

13%

%GDA

Sugars
7g

per serving

8%

%GDA

Salt
0.60g

per serving

10%

%GDA
Method
Heat a griddle pan until hot. Drizzle the little gem and corn on the cob with the oil and toss to coat.

Place the little gem, cut side down onto the griddle and char for 1-2 minutes on each side. Remove and set aside.

Repeat with the corn on the cob and peppers, until just charred on each side.

Add the prawns and char quickly until hot through.

While the veg and prawns cook, tip the peanut butter, chilli sauce and lime zest and juice into a bowl and whisk until smooth then add a little water to make it runny if necessary.

Divide the coriander sprigs, little gem, corn on the cob, peppers and prawns between the plates and drizzle with the dressing as you go. Scatter the remaining coriander over the top.