Preparation Time: 15 minutes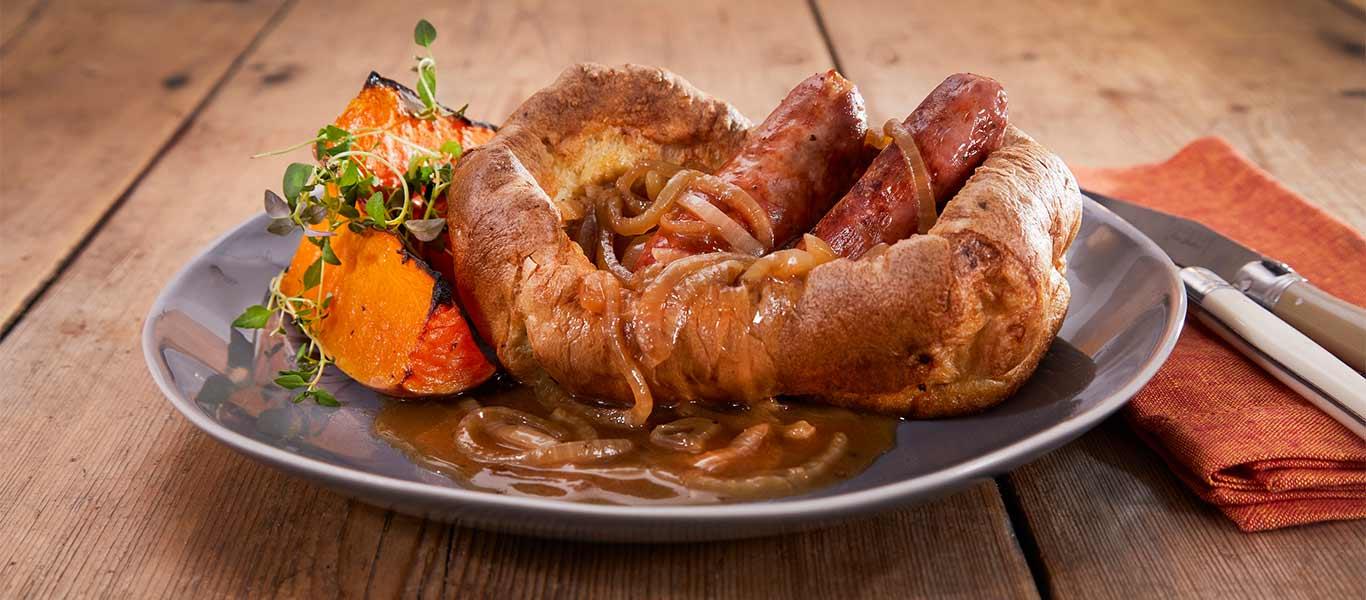 Ingredients
75g plain flour
Sea salt and freshly ground black pepper
2 eggs
125ml semi skimmed milk
2 tsp onion granules
400g butternut squash, cut into large chunks
4 pork sausages
2 tbsp vegetable oil
1 large onion, finely sliced
3 tsp chicken gravy granules
Few small sprigs of thyme
Method
Preheat the oven to 240°C, fan 220°C, gas mark 9.

Tip the flour into a medium bowl and make a well in the centre. Tip the salt, black pepper, eggs, onion granules and milk into the well.

Starting in the centre, whisk the liquid into the flour, making your way out to the outside, until you have a thick smooth batter. If you have time, set aside for at least 30 minutes, or even, covered in a fridge overnight.

Meanwhile, place the squash and sausages into a roasting tray and drizzle with 2 tsp vegetable oil, then season with salt and black pepper. Place in the oven for 25 minutes until cooked through.

Pour 2 tsp of oil into 2 small ovenproof tins and place in the oven for 5 minutes until piping hot.

Slide the oven rack out with the tray on and carefully pour the batter into the tin. Slide the shelf back in and shut the door. Turn the oven down to 230°C, fan 210°C, gas 7 and cook for 20 -25 minutes until the Yorkshire is risen and just crisp.

Heat a frying pan until medium hot. Add the last of the oil and the onions and cook over a gentle heat for 15 minutes until softened and golden brown.

Set the kettle to boil. Tip the gravy granules into the frying pan then add 300ml boiling water and whisk until thickened.

Divide the Yorkshire puddings between serving plates, then top with the sausages, wedge of squash and onion gravy.

Serve straightaway with a few sprigs of thyme on top.