Preparation Time: 10 minutes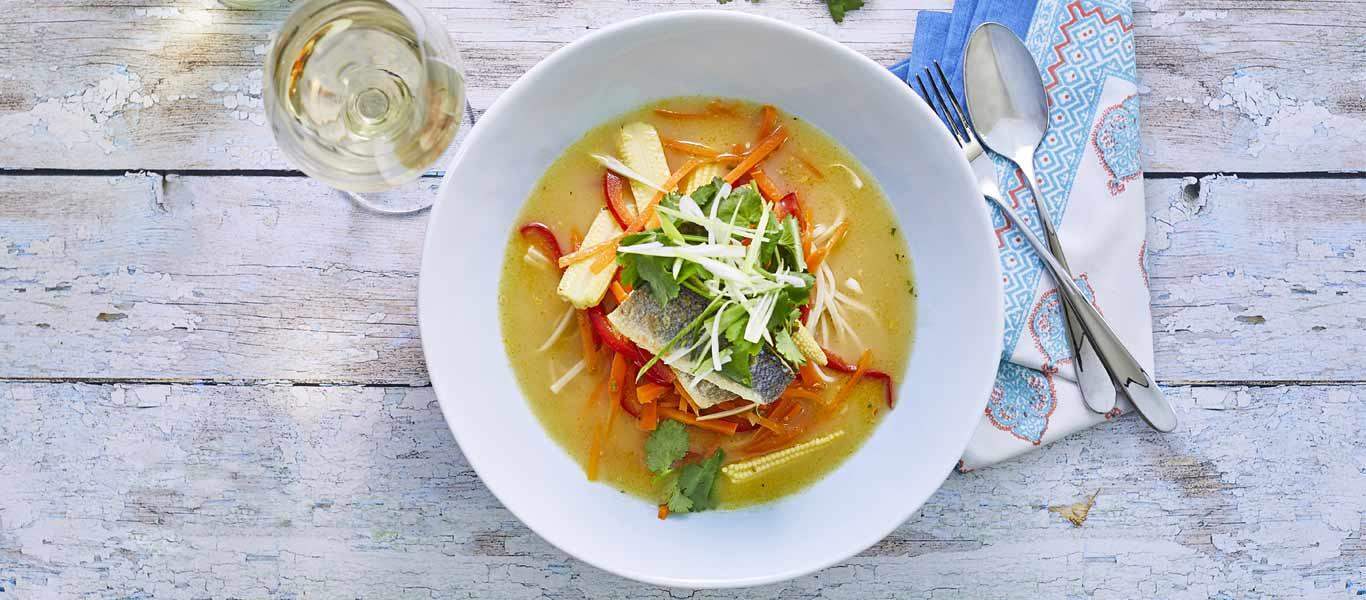 Ingredients
300g medium egg noodles
4 tbsp Thai green curry paste
600ml reduced fat coconut milk
2 x reduced salt vegetable stock cube
4 carrots, peeled and finely shredded
2 small peppers, seeded and finely shredded
160g baby corn, halved
½ small bunch coriander, stalks roughly chopped and leaves left whole
1 tsp vegetable oil
4 x sea bass fillets, cut in half
2 limes, halved
2 spring onions, cut into 5cm lengths and shredded
Nutrition
Calories column
Fat column
Saturates column
Sugars column
Salt column

Calories
745

per serving

37%

%GDA

Fat
32g

per serving

45%

%GDA

Saturates
13g

per serving

65%

%GDA

Sugars
13g

per serving

14%

%GDA

Salt
1.90g

per serving

32%

%GDA
Method
Bring a large pan of water to the boil, add the egg noodles and cook according to packet instructions. Drain and return to the saucepan to keep warm.

While the noodles cook, heat a sauté pan until medium hot. Add the green curry paste and fry for 1 minute until just golden, then add the coconut milk. Refill one of the cans with water and then half again and add to the pan along with the vegetable stock cubes then bring to the boil.

Add the carrots, peppers, baby corn and coriander stalks and simmer for 3 minutes until just tender.

While the veg simmers, heat a frying pan until hot. Add the oil to the pan and then the sea bass fillets, skin side down and fry for 2 minutes, then flip over and cook for another minute.

Squeeze the limes into the broth and stir well.

Divide the noodles between serving bowls, then spoon the vegetables and broth over the top. Lay the sea bass on top, then finish with a pile of spring onions and coriander on top and serve straightaway.