Preparation Time: 20 minutes
Cooking Time: 3 1/2-4 hours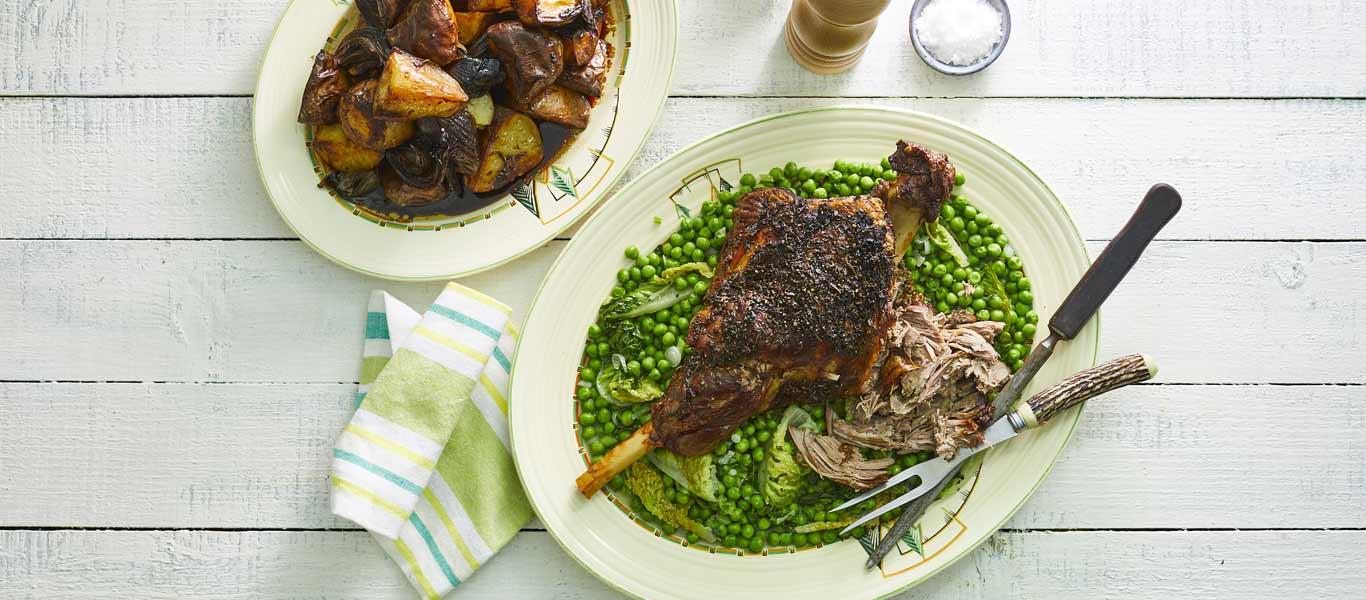 Ingredients
6 garlic cloves, roughly chopped
2 tbsp roughly chopped rosemary
2 tbsp olive oil
sea salt and freshly ground black pepper
1.2kg potatoes, scrubbed and cut into large chunks
3 red onions, cut into quarters
2kg leg of lamb
1 bunch spring onions, roughly chopped
480g frozen peas
1 chicken stock cube (gluten free)
2 heads little gem, leaves separated and halved lengthways if large
2 tbsp roughly chopped mint leaves
Nutrition
Calories column
Fat column
Saturates column
Sugars column
Salt column

Calories
697

per serving

34%

%GDA

Fat
26g

per serving

37%

%GDA

Saturates
10g

per serving

50%

%GDA

Sugars
9g

per serving

10%

%GDA

Salt
0.70g

per serving

11%

%GDA
Method
Preheat the oven to 180°C, fan 160°C, gas mark 4.

Put the chopped garlic and rosemary into a small bowl, add half the olive oil, season well with salt and black pepper then mix together.

Tip the potatoes into the bottom of a large roasting tin, then add the red onions and toss together.

Set the leg of lamb on top of the potatoes, then rub the lamb with the garlic rosemary mixture.

Place in the oven to roast for 4 hours until the lamb is really tender and falling off the bone.

Remove, cover with foil and leave to rest while you prepare the peas. Boil a kettle. Crumble the stock cube into a jug, then add 250ml boiling water and stir well.

Heat a sauté pan until medium hot. Add the last of the oil and the spring onions and sweat for 2-3 minutes until softened.

Add the peas and stock and bring to a simmer. Add the little gem, cover and cook for 2 minutes until hot through and the lettuce just tender.

Season with black pepper then stir through the mint.

Shred the lamb and serve with the peas, potatoes and onions.