Preparation Time: 15 minutes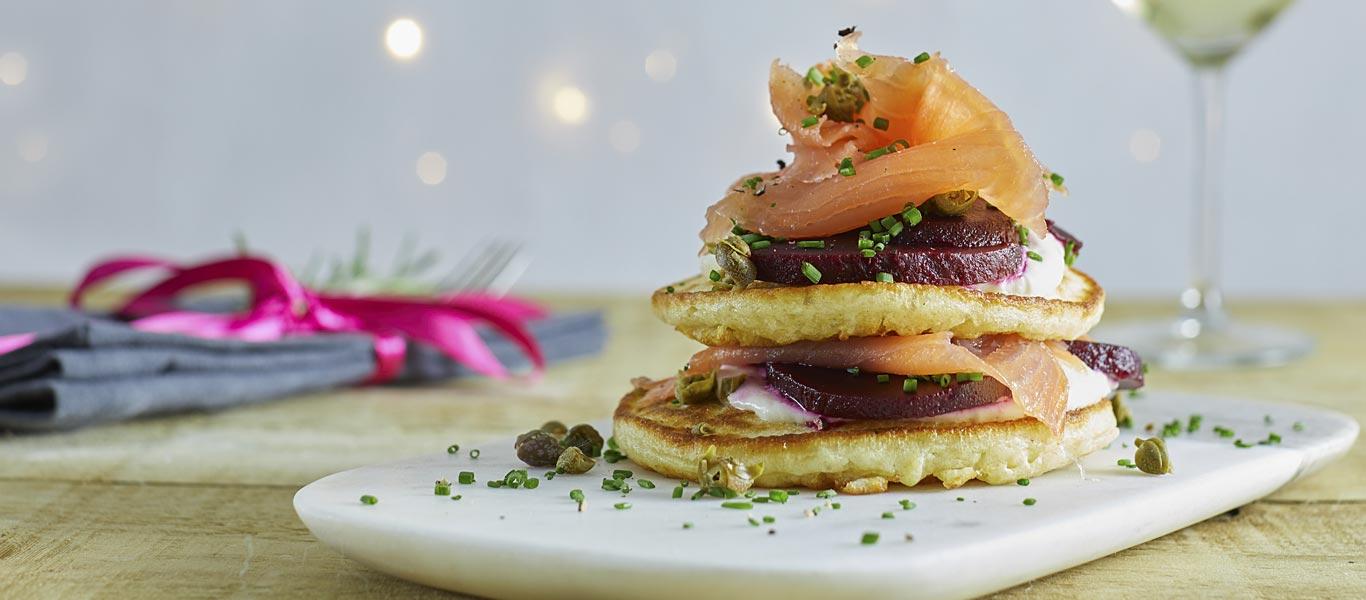 Ingredients
125g self-raising flour
1 large egg, separated
150ml milk
Sea salt and freshly ground black pepper
1 tbsp vegetable oil
230g pickled sliced beetroot
100g half fat crème fraiche
2 tbsp horseradish
200g smoked salmon
1 tbsp finely chopped chives
1 tbsp capers, roughly chopped
Nutrition
Calories column
Fat column
Saturates column
Sugars column
Salt column

Calories
350

per serving

17%

%GDA

Fat
16g

per serving

23%

%GDA

Saturates
6g

per serving

30%

%GDA

Sugars
6g

per serving

7%

%GDA

Salt
2.20g

per serving

37%

%GDA
Method
Tip the flour into a large bowl, make a well in the centre and add the egg yolk. Place the egg white into a separate large bowl.

Add the milk to the bowl of flour and season with salt and black pepper. Starting in the centre of the bowl, slowly whisk the egg and milk together then move the whisk out towards the outside of the bowl, drawing more flour in each time until you have a thick smooth batter. Set to one side.

Whisk the egg whites (with a clean whisk) until soft peaks form, then fold into the batter, half at a time until just combined.

Heat a large frying pan until medium hot. Add the oil and swirl around the pan, then place large spoonfuls of batter into the pan and fry for 1-2 minutes until starting to bubble across the top.

Flip over and cook for another 1 minute until golden brown and just set. Remove and place onto a plate. Repeat with the remaining batter to form 8 pancakes in total.

Whisk the crème fraiche and horseradish together then season with black pepper.

Place a blini in the centre of each plate and place a small spoonful of horseradish cream on top.

Top with a layer of the pickled beetroot, a twist of smoked salmon, some chives, capers and black pepper, then place a second blini on top and repeat the layers.

Serve straightaway with a glass of chilled Pinot Grigio.