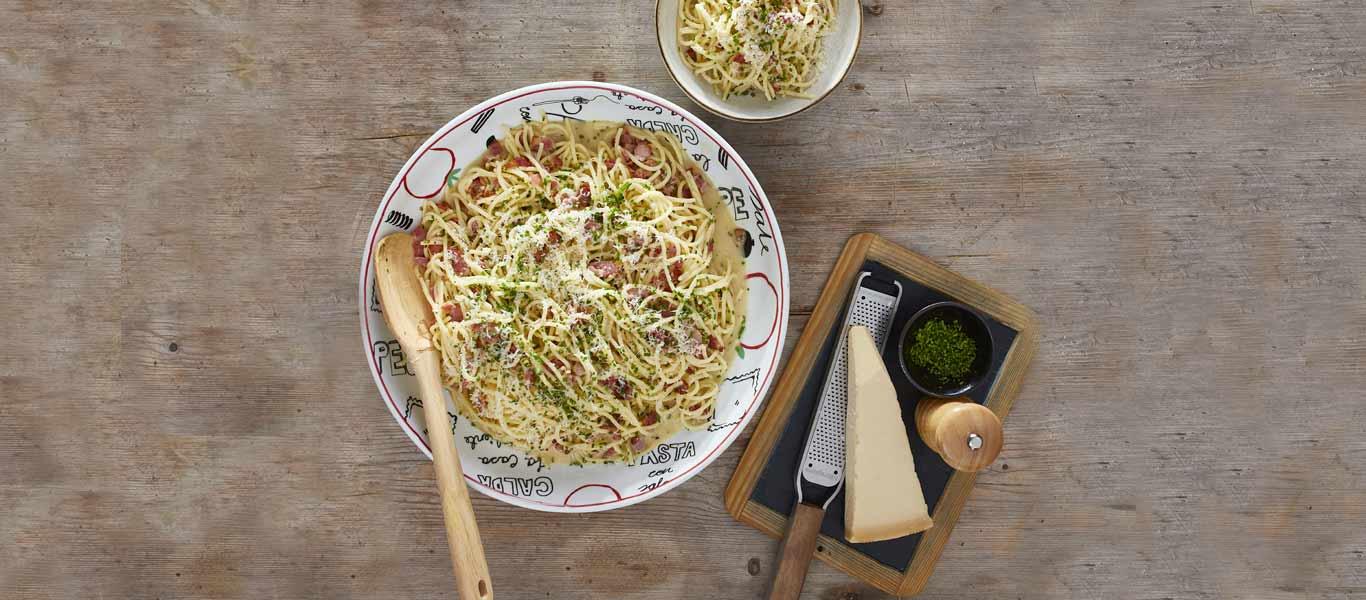 Ingredients
450g spaghetti
1 tbsp olive oil
300g smoked streaky bacon, cut into strips
3 eggs
135g freshly grated parmesan, plus extra for serving
Freshly ground black pepper
3 tbsp roughly chopped chives
Nutrition
Calories column
Fat column
Saturates column
Sugars column
Salt column

Calories
559

per serving

28%

%GDA

Fat
24g

per serving

34%

%GDA

Saturates
10g

per serving

50%

%GDA

Sugars
2g

per serving

2%

%GDA

Salt
2.10g

per serving

35%

%GDA
Method
Bring a large saucepan of salted water to the boil. Add the spaghetti and cook according to packet instructions.

Meanwhile, heat a large frying or sauté pan until hot. Add the oil and the bacon and stir fry for 4-5 minutes until golden brown and crispy.

Crack the eggs into a bowl and add the parmesan, black pepper and half the chives and whisk together.

When the spaghetti is cooked, drain into a colander, then immediately place back over the pan to catch some of the cooking water.

Remove the bacon frying pan from the heat, tip the hot spaghetti into it and toss together. Pour the egg mixture over the top and toss once more, until all the pasta is coated – the heat of the pasta will cook the eggs. Add about 100ml of the cooking water to the pan and toss until it forms a bit of a sauce, not too much, but just enough to coat the pasta.

Divide between serving plates and top with some parmesan, black pepper and last of the chives.