Preparation Time: 10 minutes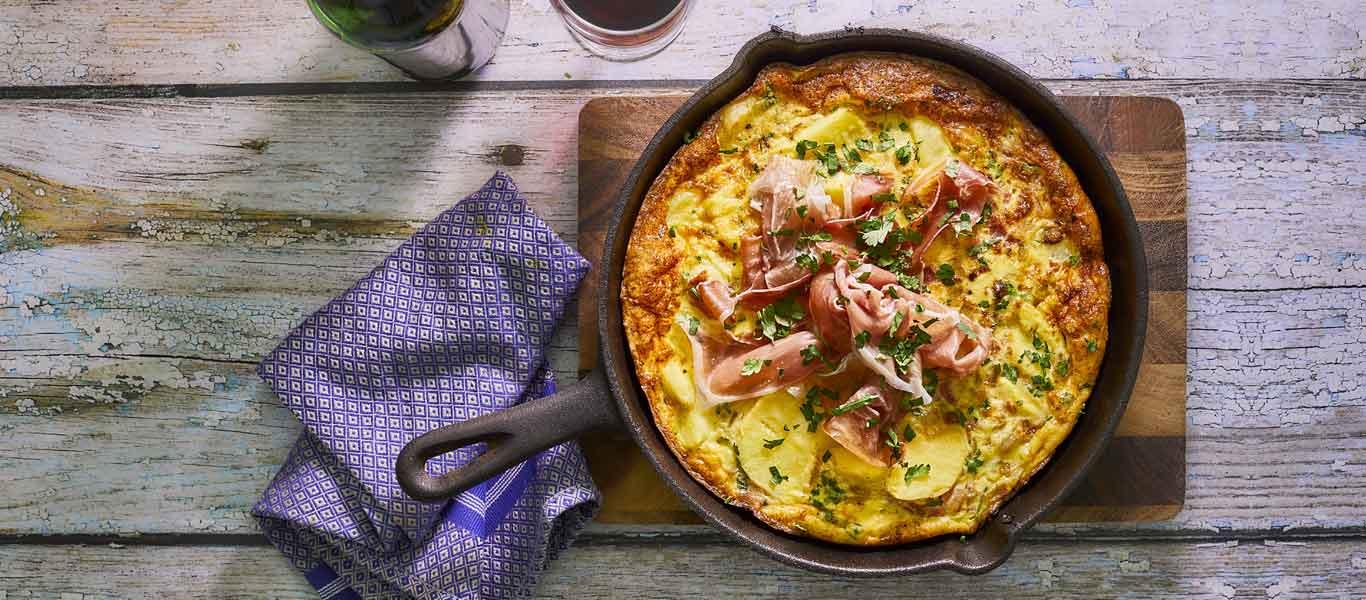 Ingredients
2 tsp olive oil
1 onion, roughly chopped
2 garlic cloves, finely chopped
8 slices parma ham or jamon serrano
8 eggs
400g leftover cooked potatoes, thickly sliced
1 small bunch parsley, roughly chopped
sea salt and freshly ground black pepper
Nutrition
Calories column
Fat column
Saturates column
Sugars column
Salt column

Calories
304

per serving

15%

%GDA

Fat
14g

per serving

20%

%GDA

Saturates
4g

per serving

20%

%GDA

Sugars
3g

per serving

3%

%GDA

Salt
1.60g

per serving

27%

%GDA
Method
Preheat the oven to 200°C, fan 180°C, gas 6.

Heat a medium ovenproof frying pan until medium hot. Add the oil and onion and fry for 5 minutes until just softened.

Meanwhile, roughly chop half the ham, setting the rest to one side.

Crack the eggs into a bowl, add the potatoes, chopped ham, garlic and ¾ of the parsley and season with freshly ground black pepper and whisk until combined.

Add the cooled onions to the mixture and stir well.

Return the frying pan to the heat and heat until medium hot. Pour the egg mixture into the pan and fry for 2 minutes, without stirring. You want the base to just set.

Transfer to the oven and bake for 15 minutes until just set and golden brown.

Remove from the oven and leave to cool for a couple of minutes before topping with the remaining ham and parsley.

Serve straightaway or allow to cool to room temperature, transfer to the fridge and eat cold.