Lunch/Dinner Spatchcock Chicken Tikka with Chargrilled Salad
---
Preparation Time: 10 minutes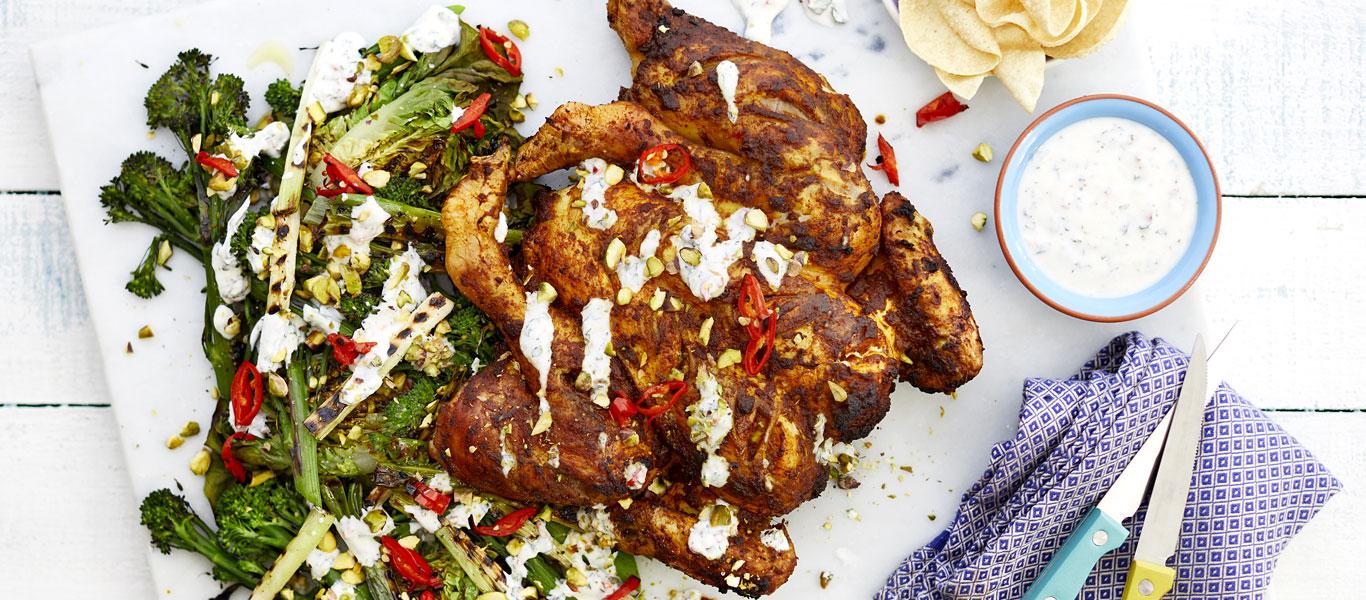 Ingredients
1.5kg whole chicken, giblets removed

70g tikka masala spice paste

320g tender stem broccoli

1 tbsp olive oil

sea salt and freshly ground black pepper

2 heads little gem, cut in half lengthways

1 bunch spring onions, trimmed and halved

2 red chillies

200g natural yoghurt

2 garlic cloves, grated or crushed

2 tbsp finely chopped mint leaves

2 tbsp crushed pistachio nuts
Nutrition
Calories column
Fat column
Saturates column
Sugars column
Salt column

Calories
492

per serving

24%

%GDA

Fat
21g

per serving

29%

%GDA

Saturates
5g

per serving

25%

%GDA

Sugars
8g

per serving

9%

%GDA

Salt
1.10g

per serving

18%

%GDA
Method
Preheat the oven to 220°C/ fan 200°C/ gas 8.

Place the chicken, breast side down, onto a chopping board. Using sharp heavy duty scissors, cut through the flesh and bone along both sides of the backbone about 5cm/2 " wide. Cut from the tail end to the head end then lift out the backbone. Place the chicken flesh side down onto the board and press as flat as possible.

Make 3 slashes in each of the breasts and legs then spoon the tikka paste over the chicken and rub in really well until totally coated.

Place the chicken, skin side up onto a baking tray and place in the oven for 40-45 minutes until golden brown and cooked through.

To check that the chicken is cooked, insert a knife or skewer into the fattest part of the thigh. If the juices run clear, the chicken is cooked through. If any blood comes out, return it to the oven for another 5–10 minutes, then check again.

While the chicken cooks, prepare the salad. Bring a saucepan of salted water to the boil. Add the tender stem broccoli and boil for 2 minutes until just tender. Drain and pat dry then drizzle with a little oil, salt and freshly ground black pepper and toss to coat.

Heat a griddle pan until medium hot, add the little gem halves and char on the cut sides until browned. Turn the little gem over and char for another minute or so until just golden. Remove and place onto a serving platter.

Repeat the charring process with the spring onions, broccoli and chillies, adding all but the chillies to the serving platter.

Tip the yoghurt into a serving bowl, add the garlic and mint, salt and black pepper and stir well. Cut one chilli in half and remove the seeds, then finely chop and stir into the yoghurt. Finely slice the remaining chilli.

Drizzle half the yoghurt over the charred vegetables and scatter with the crushed pistachio nuts and sliced chilli, then place the cooked chicken alongside with the rest of the yoghurt.