Preparation Time: 10 minutes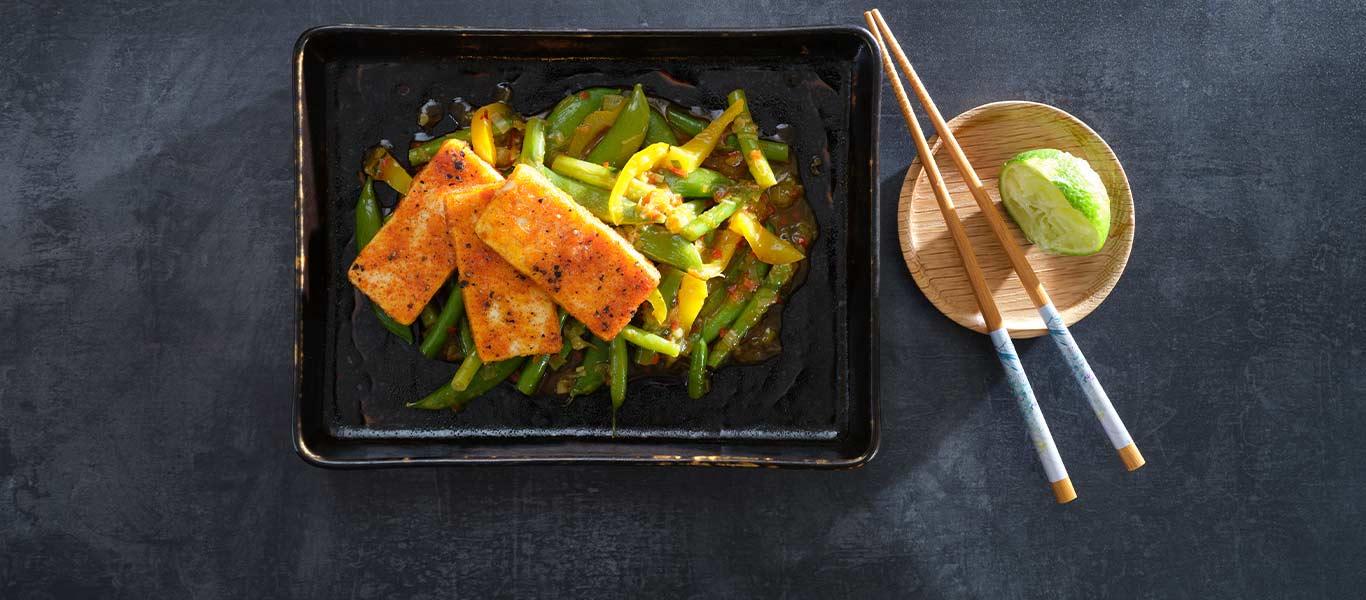 Ingredients
1 bunch spring onions, finely sliced
2 garlic cloves, finely grated or crushed
1 red chilli, seeded and finely chopped
1 pepper, seeded and finely sliced
120g green beans, halved
120g sugar snap peas
120g Blue Dragon sweet chilli and garlic stir fry sauce
150g firm tofu, sliced
2 tbsp cornflour
½ tsp chilli powder or smoked paprika
Pinch of Sea Salt
Freshly ground black pepper
Nutrition
Calories column
Fat column
Saturates column
Sugars column
Salt column

Calories
303

per serving

15%

%GDA

Fat
8g

per serving

11%

%GDA

Saturates
1g

per serving

5%

%GDA

Sugars
27g

per serving

30%

%GDA

Salt
1.30g

per serving

21%

%GDA
Method
Heat a frying pan or wok until hot. Add the oil and spring onions and peppers and stir fry for 1 minute.

Add the garlic, chilli and ginger and stir fry for another 30 seconds.

Add the green beans and 50ml water and steam for 2-3 minutes until nearly tender. Add the sugar snap peas and cook for 1 minute then add the sauce and simmer for 2 minutes.

Set aside while you fry the tofu. Pat the tofu dry with kitchen roll if wet.

Tip the cornflour, chilli powder, salt and black pepper onto a bowl and mix to combine. Season with black pepper then press the tofu slices into it, turning so each side is coated.

Heat a frying pan until hot. Add the rest of the oil and fry the slices on each side for 1-2 minutes until golden and crispy.

Divide the vegetables between serving plates and top with the crispy tofu.