Preparation Time: 10 minutes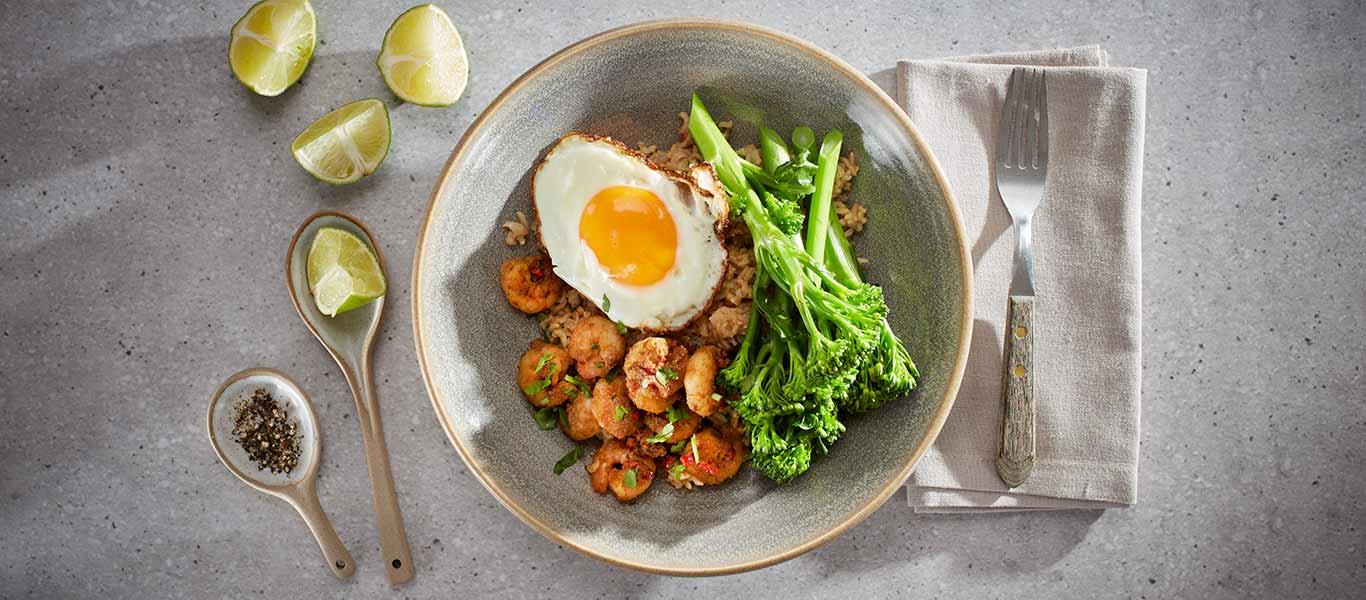 Ingredients
2 tbsp vegetable oil
1 small onion, finely chopped
2 garlic cloves, finely grated or crushed
2 red chillies, seeded and chopped
2 tbsp ground coriander
2 tbsp ground cumin
200g brown basmati rice
Sea salt and freshly ground black pepper
2 limes, zested and juiced
320g tenderstem broccoli
200g Seachill RTE cooked king prawns
4 eggs
1 small handful coriander
Nutrition
Calories column
Fat column
Saturates column
Sugars column
Salt column

Calories
392

per serving

20%

%GDA

Fat
13g

per serving

19%

%GDA

Saturates
3g

per serving

13%

%GDA

Sugars
3g

per serving

4%

%GDA

Salt
1.60g

per serving

27%

%GDA
Method
Heat a sauté or saucepan until medium hot. Add 2 tsp vegetable oil and onion and cook for 2-3 minutes until just softening.

Add the garlic, 1 chilli, 1 tbsp ground coriander and 1 tbsp cumin and cook for 1 minute then add the rice and mix really well.

Add 800ml boiling water and bring to a simmer. Cover with a lid and simmer for 20-25 minutes until the rice is tender and then liquid is absorbed.

Season with salt, black pepper and the zest and juice of one lime.

Meanwhile, heat a pan of water to boiling, add the broccoli and simmer for 3-4 minutes until tender.

Heat a frying pan until hot. Add 2 tsp vegetable oil, prawns, remaining chilli, coriander and cumin and stir fry for 2-3 minutes until golden and hot through.

Remove and add the last of the oil to the pan. Crack the eggs into the pan, 2 at a time and fry until crispy around the edges and just cooked through.

Divide the rice between serving bowls. Top with the broccoli, prawns and fried egg, then coriander.

Serve straightaway with the last lime squeezed over the top.