Preparation Time: 15 minutes + 4 hours Soaking time - overnight
Cooking Time: 7 hours, plus 2 hours reheating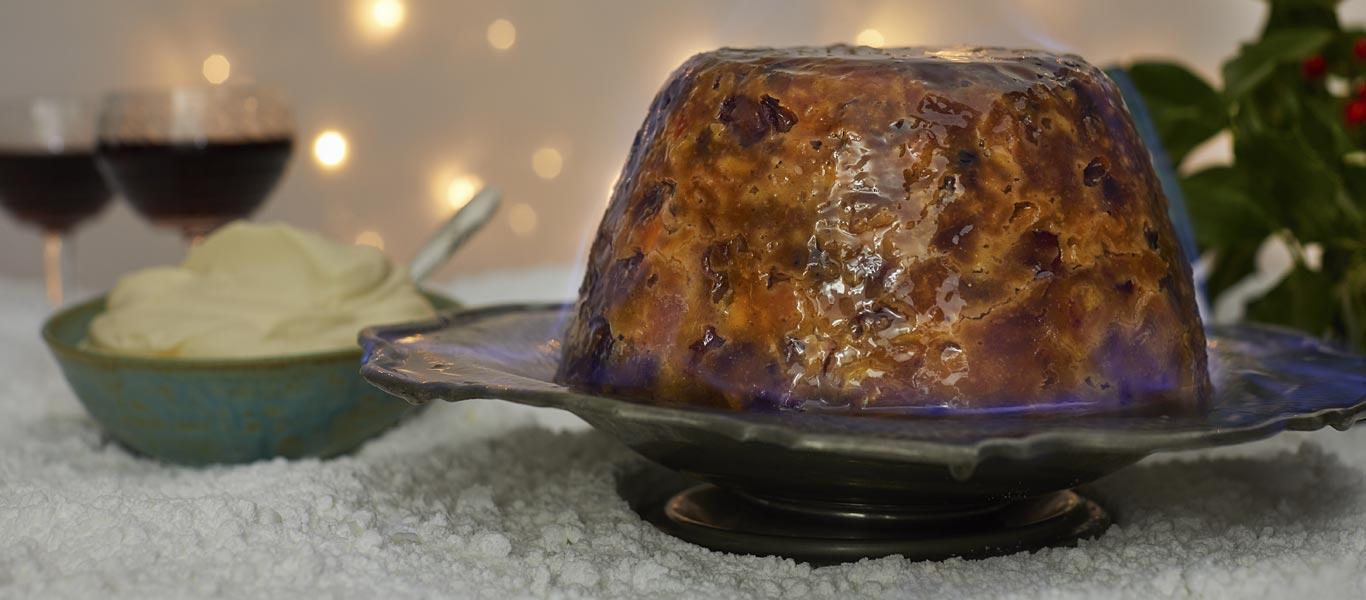 Ingredients
100g dried mixed fruit
150g sultanas
100g raisins
50g dried chopped apricots
50g dried cranberries
100ml Captain Morgan's spiced rum
1 Royal Gala apple, grated
1 large orange, zested and juiced
100g light soft brown sugar
2 large eggs
100g plain flour
1 tsp mixed spice
100g suet (vegetarian suet can be used)
50g white breadcrumbs
To serve
300ml double cream or non dairy cream
150ml Captain Morgan's spiced rum
2 tbsp icing sugar
Nutrition
Calories column
Fat column
Saturates column
Sugars column
Salt column

Calories
451

per serving

22%

%GDA

Fat
22g

per serving

31%

%GDA

Saturates
13g

per serving

65%

%GDA

Sugars
36g

per serving

40%

%GDA

Salt
0.10g

per serving

2%

%GDA
Method
Tip the mixed fruit, sultanas, raisins, chopped apricots and cranberries into a large bowl.

Add the rum, grated apple and orange zest and juice and stir really well. Cover and set aside for at least 4 hours, preferably overnight to soak.

Butter a 1 litre pudding basin (ceramic or plastic). Place a small disc of parchment paper into the bottom of the bowl.

Add the sugar, eggs, flour, mixed spice, suet and breadcrumbs into the soaked fruit and mix really well.

Stir well then tip into the prepared pudding basin. If using a plastic pudding basin, cover with the lid, making sure it's attached firmly. If using a ceramic basin, take a large sheet of parchment paper, cover with the same size foil and fold over to form a pleat down the centre. Place on top of the basin and secure with string around the top of the basin.

You can cook in two ways – either in a saucepan or slow cooker. Place in a slow cooker and fill with enough hot water to come half way up the side of the pudding. Cover with a lid and set on high to cook.

Alternatively, place a small upturned plate or metal lid in the base of a large saucepan. Place the pudding on the plate and fill with enough water to come half way up the side of the pudding. Bring to the boil, then reduce the heat to a simmer, cover with a lid and set to cook for 7 hours – you will need to top up the water occasionally if the water is simmering to vigorously.

Once cooked, remove from the pan and allow to cool. Remove any parchment and foil if used, and replace with new. The pudding can be kept in a cool place for at least 2 months.

To serve, repeat the steaming process as above, but for just 2 hours until hot through.

When the pudding has 15 minutes left to steam, pour the cream into a bowl with 50ml of the spiced rum, then sift the icing sugar over the top. Whisk until soft peaks form then set to one side.

Tip the pudding out onto a plate. Pour the remaining spiced rum into a small saucepan and heat until just warm.

Pour the hot rum over the pudding and ignite carefully with a long match. Cut and serve wedges with the rum cream.