Preparation Time: 5 minutes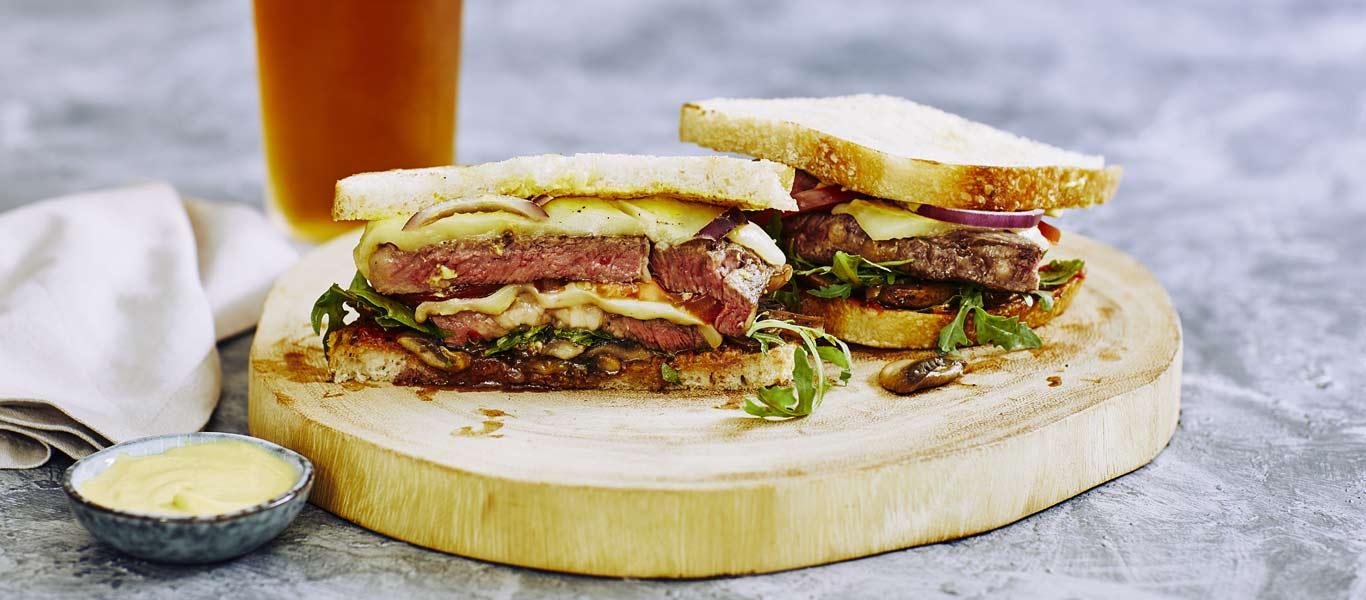 Ingredients
2 x rib eye steaks, room temperature
2 tsp vegetable oil
Sea salt and freshly ground black pepper
160g closed cup mushrooms, halved or thickly sliced
4 slices sour dough bread
100g lighter mature cheddar cheese, thinly sliced
1 red onion, cut into rings
2 tomatoes, cut into slices
20g rocket
2 tbsp bbq sauce
2 tbsp mild mustard sauce
Nutrition
Calories column
Fat column
Saturates column
Sugars column
Salt column

Calories
903

per serving

45%

%GDA

Fat
38g

per serving

54%

%GDA

Saturates
17g

per serving

85%

%GDA

Sugars
15g

per serving

17%

%GDA

Salt
3.60g

per serving

60%

%GDA
Method
Rub the steaks with 1 tsp vegetable oil then season with salt and black pepper.

Heat a frying pan until hot. Add the steaks and cook on each side for 4 minutes until browned and just springing back when pressed lightly.

Remove from the heat and place onto a plate. Place the cheese on top of the steaks then cover with foil to rest.

Return the pan to the heat, add the remaining vegetable oil and the mushrooms and fry for 2-3 minutes until golden brown and tender.

Tip out of the pan into a bowl, then add the bread to the pan and fry in the residual juices for 1-2 minutes until just crispy and hot through.

Lay the bread onto a board and spread half with the bbq sauce and the remaining half with eth mustard. Top the bbq sauce with the mushrooms.

Carve the steak in half and place on the mushrooms, then top with the red onion rings and mustard bread. Cut the whole sandwich in half and serve straightaway.