Lunch/Dinner Steak Platter with Mustard Potatoes and Roasted Green Veg
---
Preparation Time: 15 minutes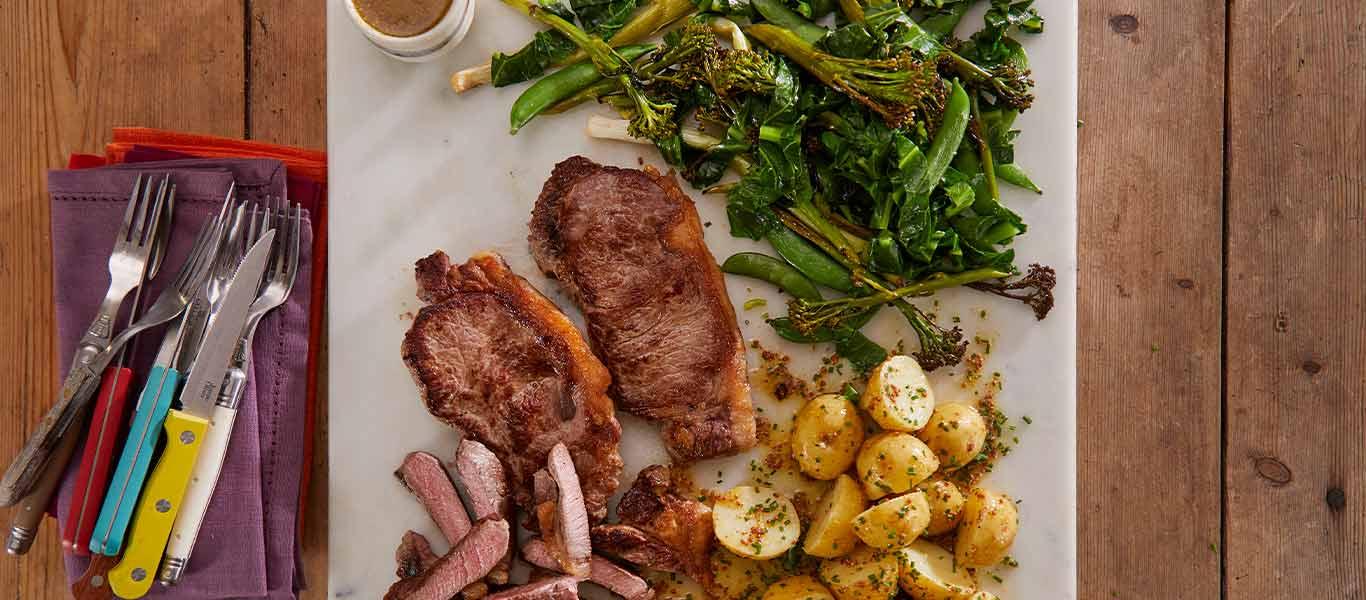 Ingredients
750g baby new potatoes, cut in half if large
240g tender stem broccoli, trimmed
1 bunch spring onions, trimmed
6 tbsp olive oil
Sea salt and freshly ground black pepper
6 x 210g sirloin steaks
½ lemon, juiced
3 tbsp grainy mustard
240g spring greens
240g sugar snap peas
2 tbsp finely chopped chives
Method
Preheat the oven to 200°, fan 180°, gas mark 6. Remove the steaks from the fridge and allow to come to room temperature while the potatoes cook.

Tip the potatoes into a saucepan, add enough cold water to just cover then add a pinch of salt. Bring to the boil and simmer for 15-20 minutes until really tender. Drain and return to the pan.

Meanwhile, lay the broccoli and spring onions onto a tray and drizzle with 1 tbsp olive oil. Season with salt and black pepper and place in the oven to roast for 10-15 minutes until tender and slightly charred.

Heat a frying pan until very hot. Drizzle the steaks with a little olive oil and season with salt. Sear on each side for 1 minute then remove and place onto an oven tray. (Cook 2 steaks at a time, don't crowd the pan as they'll sweat not sear.)

Place the tray of steaks into the oven for 5 minutes then remove and set aside to rest.

Meanwhile, tip the mustard into a bowl, add the lemon juice and olive oil and whisk together. Pour in any juices from the resting steaks and the chives.

Bring a large pan of water to the boil, add the spring greens and sugar snap peas and simmer for 2-3 minutes until tender. Drain and return to the pan.

Carve the steaks into thick slices and arrange on a platter. Toss the potatoes with half the dressing and pile alongside.

Toss the roasted broccoli and spring onions with the kale and sugar snap and pile next to them. Scatter the chives over the top and serve with the remaining dressing.