Preparation Time: 10 minutes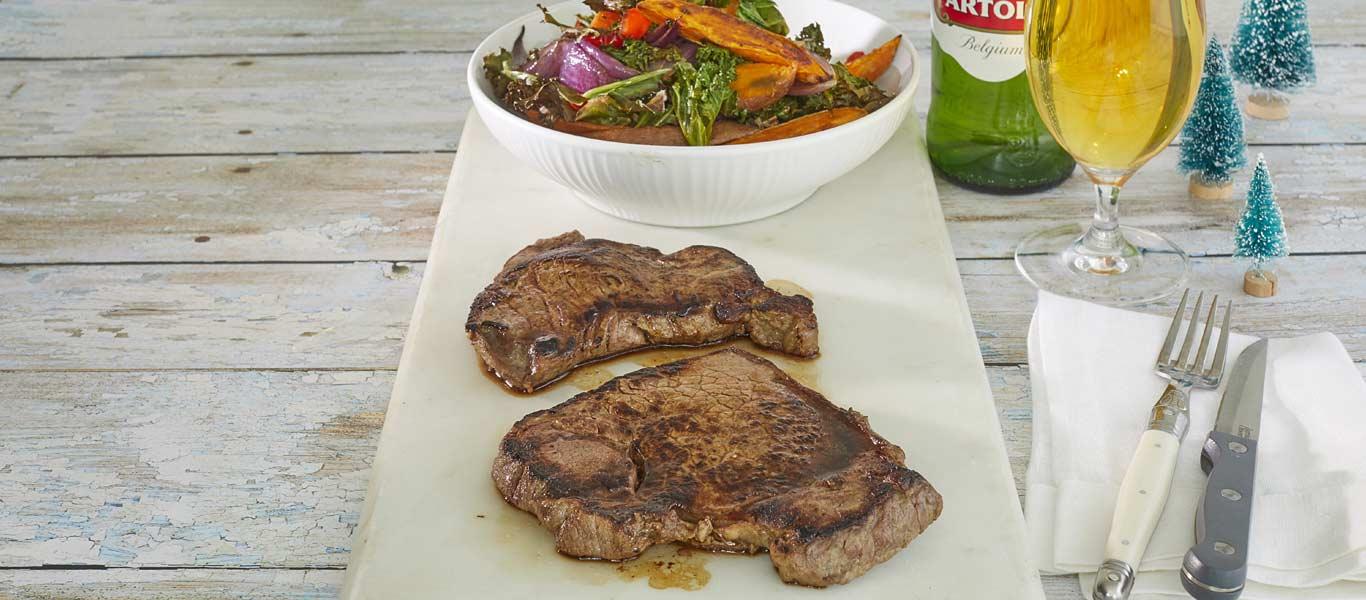 Ingredients
2 x 200g rump steaks, room temperature
80ml lager
2 medium sweet potatoes, scrubbed and cut lengthways into thin wedges
1 red onion, cut into wedges
1 red pepper, seeded and cut into wedges
2 tsp vegetable oil
Sea salt and freshly ground black pepper
80g sliced kale
2 tbsp balsamic vinegar
60g blue cheese, roughly chopped
Nutrition
Calories column
Fat column
Saturates column
Sugars column
Salt column

Calories
681

per serving

34%

%GDA

Fat
23g

per serving

33%

%GDA

Saturates
11g

per serving

55%

%GDA

Sugars
22g

per serving

24%

%GDA

Salt
1.10g

per serving

18%

%GDA
Method
Preheat the oven to 200°C, fan 180°C, gas mark 4.

Place the steaks into a bowl and pour over the lager, stir around the set aside to marinate while the vegetables cook.

Place the sweet potatoes, red onion and red pepper onto a large oven tray, drizzle with half the vegetable oil, salt and black pepper and toss together.

Place in the oven to roast for 20 minutes.

After 15 minutes, start cooking the steak. Remove the steak from the lager, pat dry then rub with the remaining oil and season with salt and black pepper.

Heat a frying pan until hot. Add the steaks and cook on each side for 3-4 minutes until browned and cooked through to your liking.

Remove from the pan and set aside on a plate to rest while you finish the vegetables.

Stir the vegetables around, then add the kale, balsamic and cheese to the tray and return to the oven for another 5 minutes until the kale has just charred and the cheese melted.

Serve the steak with the vegetables alongside.