Preparation Time: 5 minutes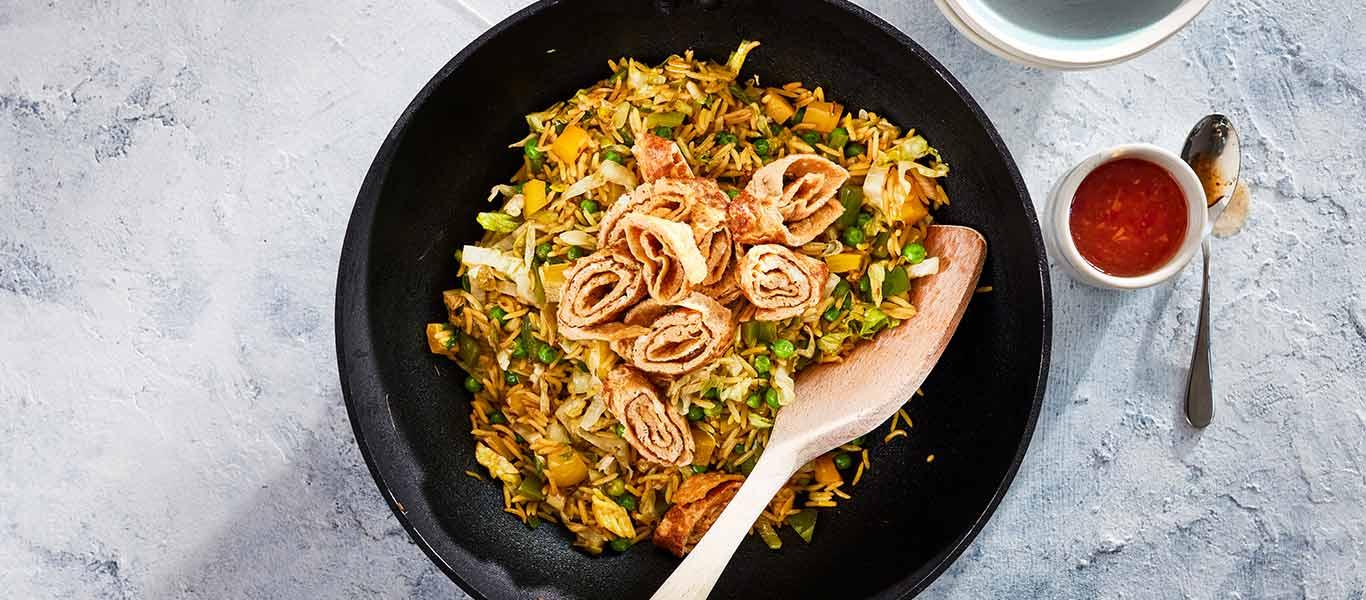 Ingredients
1 tbsp vegetable oil
1 bunch spring onions, finely sliced
2 mixed peppers, seeded and roughly chopped
1 x 250g microwaveable pilau rice
2 tbsp soy sauce
160g frozen peas
1 head little gem, finely shredded
2 eggs
1 tsp chilli sauce (plus extra to serve, if you like a kick)
Method
Heat a wok until hot. Add 1 tsp vegetable oil, the spring onions and peppers and stir fry for 2 minutes until just softened.

Add the pilau rice and stir fry for 2 minutes until nearly hot then add the peas and stir fry for another 2-3 minutes until the rice and peas are hot through.

Stir in 4 tsp soy sauce and the little gem lettuce and heat for another minute.

Decant into serving plates.

Crack the eggs into a small bowl, add the remaining 2 tsp soy sauce and the chilli sauce and whisk with a fork until smooth.

Heat a non-stick frying pan until hot, add the last of the vegetable oil and the egg, pouring it in an even layer over the pan. Leave to set then shimmy slightly to release it and tip onto a board.

Roll the omelette up into a pinwheel and slice into thick strips. Set on top of the fried rice and serve straightaway.