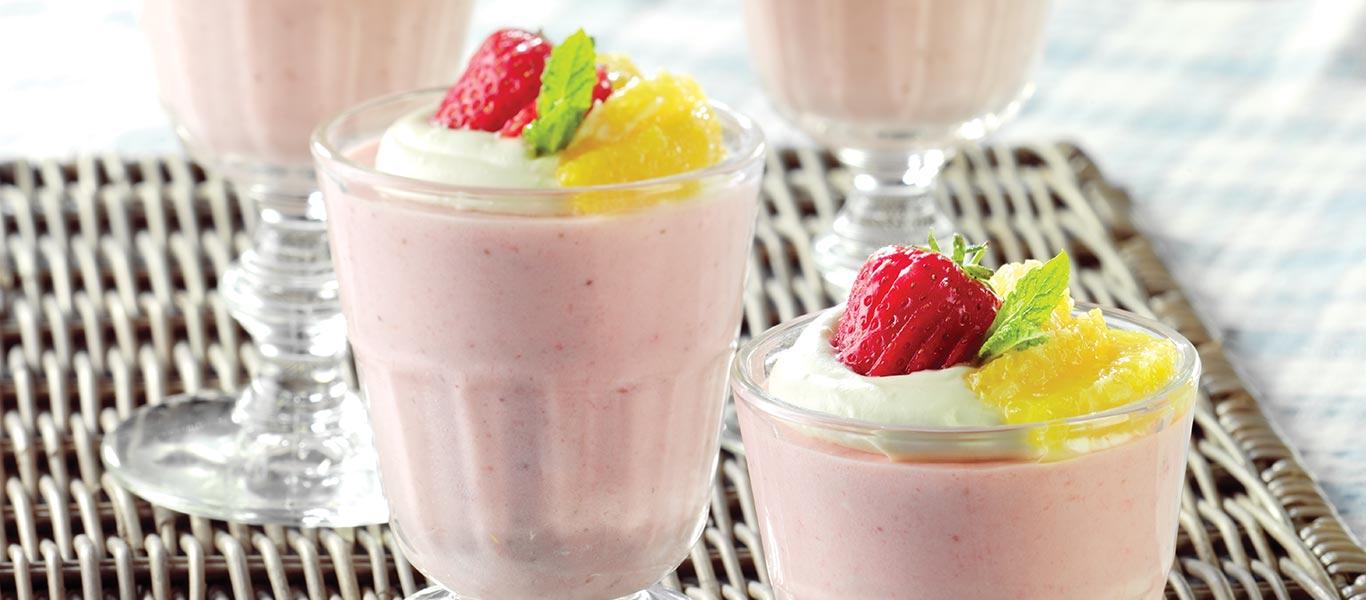 Ingredients
1 sachet of powdered gelatine
500g (1lb 2oz) strawberries
175ml (6fl oz) double or whipping cream
1 egg white
50g (2oz) caster sugar
To decorate:
100ml (4fl oz) double or whipping cream
1 orange
Mint sprigs
4tbsp orange juice or water
2tbsp lemon juice
Method
Sprinkle the gelatine over the orange juice or water in a small bowl and set aside for 5 minutes. Stand the bowl in a pan of hot water and leave until the gelatine melts, stirring until smooth.

Reserve 4 strawberries for decoration. Remove stalks, roughly chop the rest and blend them to a purée in a food processor or liquidiser with the lemon juice.

In a large bowl, whip the cream until it holds its shape and fold into the strawberry purée with the dissolved gelatine until evenly combined.

In another bowl, whisk the egg white until stiff and then whisk in the sugar until thick and shiny. Stir a tablespoon of the egg white into the strawberry mixture, before carefully folding in the rest with a large metal spoon.

Divide the mousse mixture between 4 serving dishes or glasses and chill for several hours until set.

To decorate, put the cream in a bowl and add the grated zest of the orange. Whip until the cream holds its shape. Cut the pith away from the orange and divide the fruit into segments. Top each mousse with a spoonful of whipped cream, the reserved strawberries, orange segments and small mint sprigs.