Preparation Time: 25 minutes
Cooking Time: 1 hour 40-45 minutes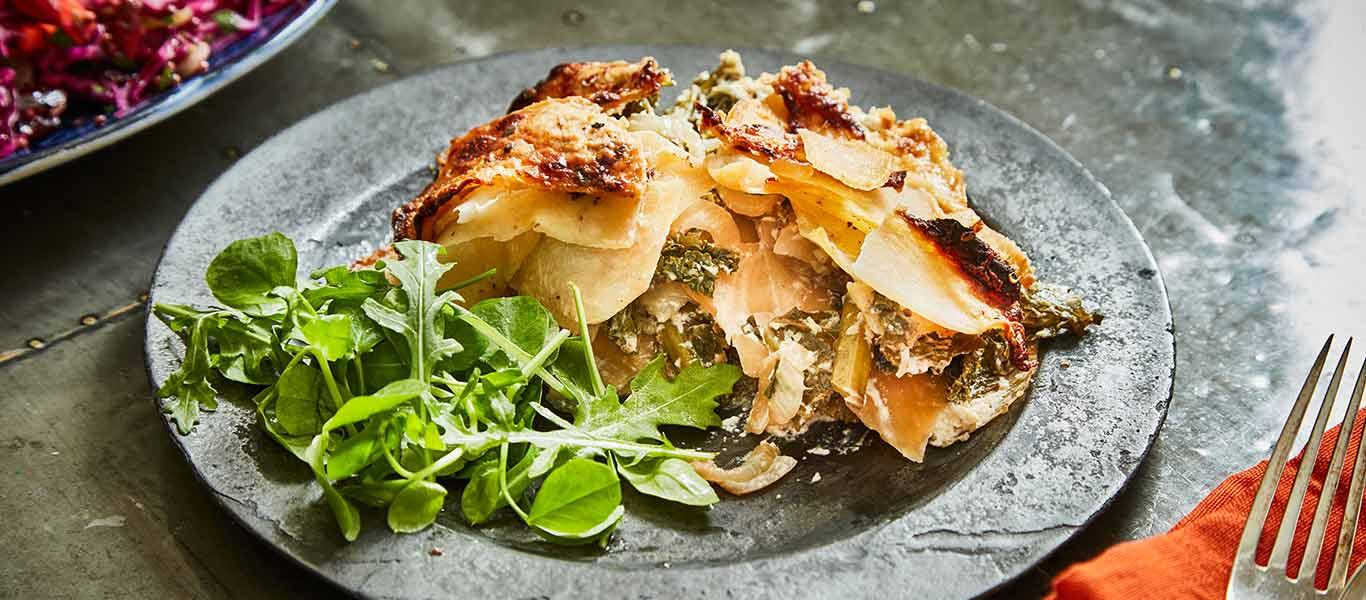 Ingredients
knob of salted butter
2 tbsp sunflower oil
2 small onions, peeled, halved and sliced
3 garlic cloves, peeled and finely chopped
150g curly kale, shredded
sea salt flakes and freshly ground black pepper
650g swede, peeled
150ml full fat milk
150ml double cream
Good pinch ground nutmeg
2 fresh bay leaves
small bunch thyme leaves, plus extra to garnish
knob Parmesan, grated
Method
Preheat the oven 180°C/160°C fan/Gas Mark 4. Grease a 25cmx16cm ovenproof dish with butter.

Heat the oil in a large non stick frying pan and fry the onion and garlic for 3 minutes or until soft. Add the kale and stirring continuously cook for a further 3-5 minutes, or until wilted. Remove from the heat and season.

Quarter the swede and slice on a mandolin using the finest setting. Place 1/3 of the swede in the bottom of the ovenproof dish. Place half the kale mixture on top of the swede. Repeat the above process one more time. Top with a final layer of swede.

In a saucepan slowly heat the milk, cream, nutmeg, bay leaves, thyme and seasoning until just below boiling point. Remove the bay leaves and pour over the swede. Press down using a spatular. Sprinkle over the Parmesan and season.

Place on a baking tray. Bake in the oven for 1 hour 30-35 minutes or until tender. Loosely cover with foil if the top starts to brown too quickly. Sprinkle with thyme and serve straight away.