Preparation Time: 10 minutes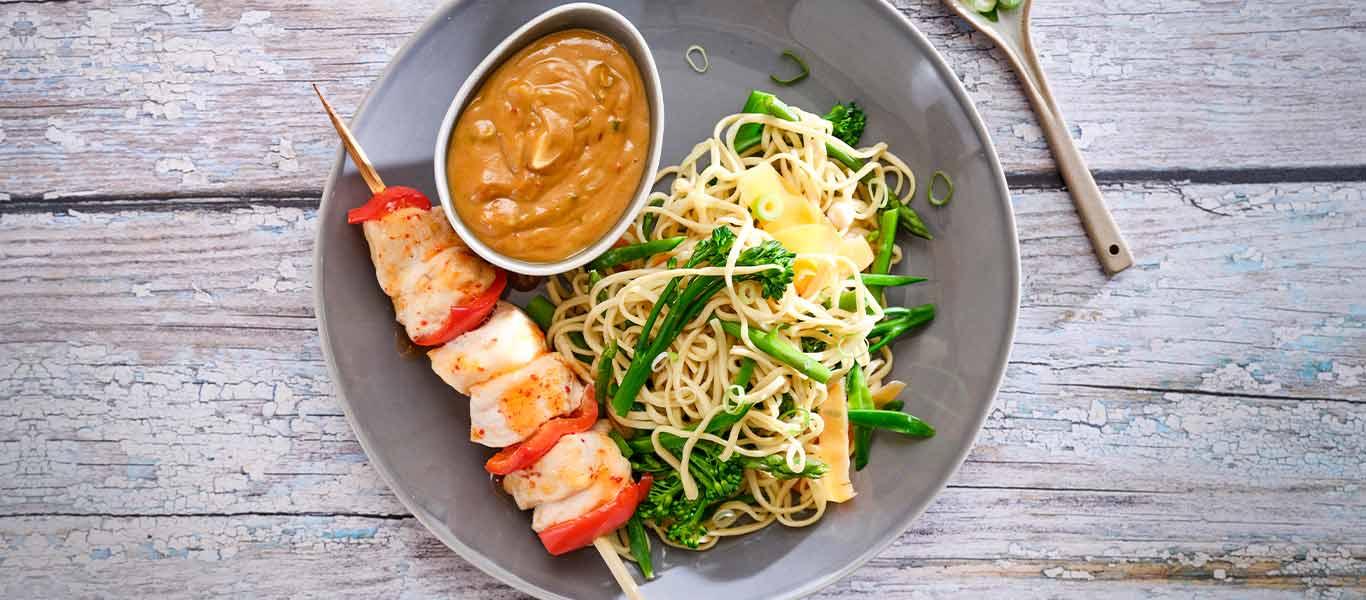 Ingredients
4 boneless skinless chicken breasts, cut into chunks
6 tbsp sweet chilli sauce
1 red pepper, cut into chunks
4 nests medium egg noodles or rice noodles
1 tsp vegetable oil
4 spring onions, sliced
1 red chilli, seeded and sliced
100g tender stem broccoli, cut into 5cm lengths
100g asparagus tips
1 carrot, peeled then peeled into ribbons
100g mangetout, shredded
100g smooth peanut butter
2 tbsp white wine or rice vinegar
1 tbsp soy sauce
Nutrition
Calories column
Fat column
Saturates column
Sugars column
Salt column

Calories
665

per serving

33%

%GDA

Fat
17g

per serving

24%

%GDA

Saturates
4g

per serving

20%

%GDA

Sugars
10g

per serving

11%

%GDA

Salt
1.90g

per serving

32%

%GDA
Method
Preheat the oven to 200°C, fan 180°C, gas mark 6. Soak 4 wooden skewers in cold water for 30 minutes, if not using metal ones.

Tip the chicken into a bowl, add 2 tbsp of the sweet chilli sauce and toss until the chicken is coated.

Slide a piece of pepper onto a skewer, then 2 pieces of chicken, then another piece of pepper and 2 more pieces of chicken. Repeat with each skewer until all the chicken and pepper is used.

Lay onto a parchment lined baking tray and place in the oven to roast for 20 minutes until the chicken is cooked through and the peppers tender.

Meanwhile, bring a wok full of water to the boil. Add the noodles and cook according to packet instructions. Drain and set aside.

Spoon the peanut butter into a bowl, add 2tbsp sweet chilli sauce, the vinegar and soy sauce and whisk together.

Wipe out the wok and return to the heat. Add the vegetable oil, spring onions and chilli and stir fry for 2 minutes until just softened.

Add the tender stem broccoli and 100ml water. Stir fry/steam for a minute, then add the asparagus and stir fry/steam for another minute, before stirring in the carrot and mangetout.

Add the peanut sauce and bring to a simmer, then stir in the cooked noodles and toss until totally coated in the sauce.

Divide between serving bowls. Spoon the last of the chilli sauce over the chicken skewers and set alongside the noodles.