Preparation Time: 10 minutes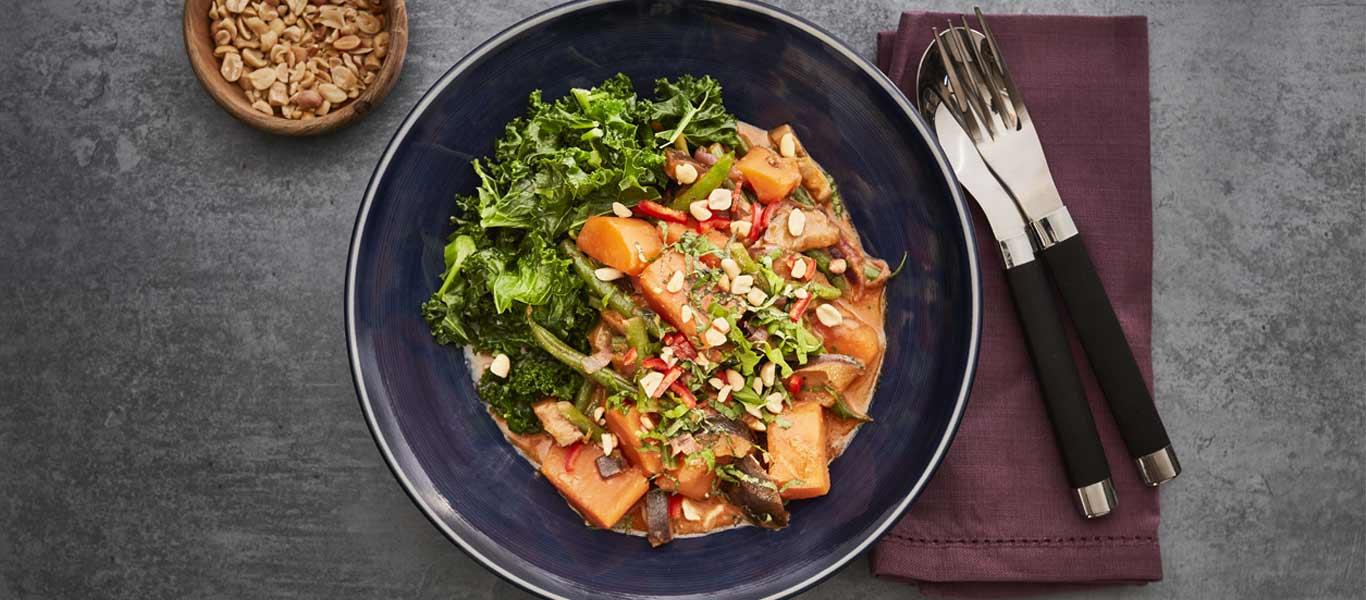 Ingredients
1 tsp vegetable oil
1 red onion, sliced
1 aubergine, cut into small chunks
1 x Blue Dragon Thai Massaman curry kit
500g sweet potatoes, peeled and cut into small chunks
160g green beans, halved
1 lime, zested and juiced
½ red chilli, seeded and finely sliced
1 tbsp roughly chopped basil
1 tbsp roughly chopped mint leaves
160g kale, sliced
Nutrition
Calories column
Fat column
Saturates column
Sugars column
Salt column

Calories
676

per serving

34%

%GDA

Fat
30g

per serving

43%

%GDA

Saturates
20g

per serving

100%

%GDA

Sugars
27g

per serving

30%

%GDA

Salt
1.50g

per serving

25%

%GDA
Method
Heat a sauté pan or wok until hot. Add the oil and onion and aubergine and fry for 2-3 minutes until just coloured and softening.

Add the paste from the kit and fry for 1 minute, then stir in the sweet potatoes

Add the coconut milk (from the kit) and 300ml water and bring to a simmer.

Add the dried spices, stir then cover with a lid and cook for 10-15 minutes until the potatoes are nearly tender.

Add the green beans and cook for a further 3-4 minutes until all the vegetables are cooked through.

Stir in the lime zest and juice.

Meanwhile, heat a sauté or saucepan, add the kale and 2 tbsp of water, cover with a lid and cook for 3-5 minutes until tender.

Pile the kale into serving bowls, then spoon the curry alongside. Top with the peanuts from the kit, the chilli, basil and mint leaves.