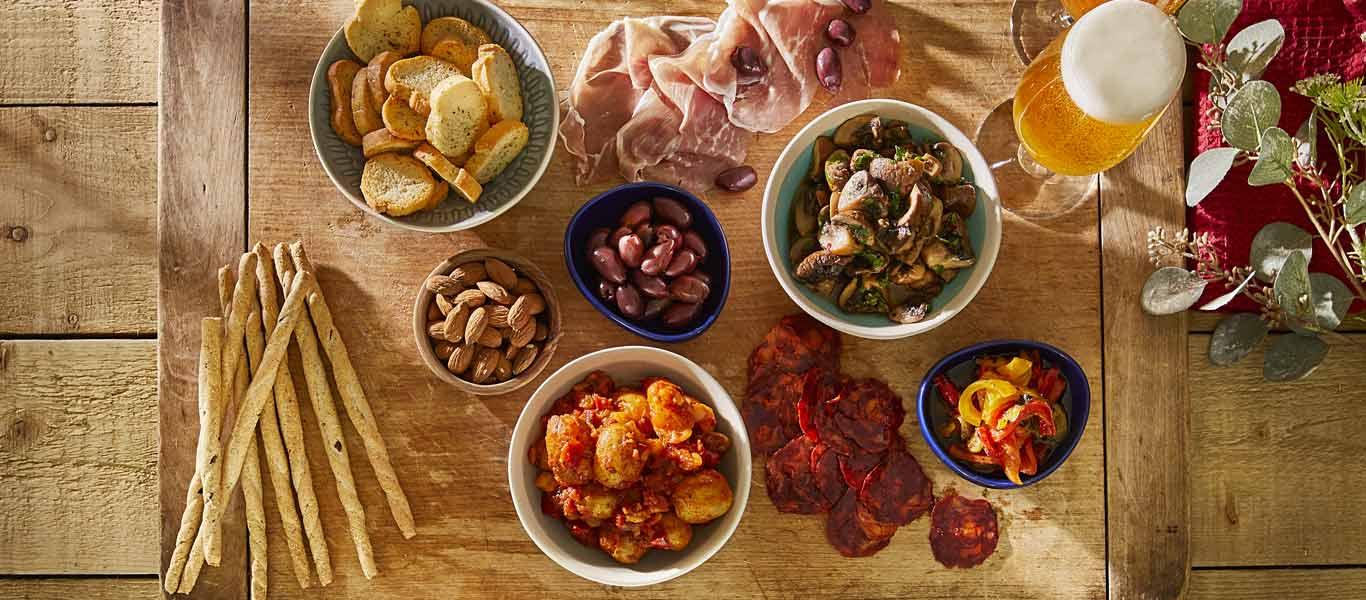 Ingredients
Patatas Bravas
400g baby potatoes, halved if large
1x 350g tomato and sweet red pepper sauce
1 tbsp white wine vinegar
2 tsp paprika
Sea salt and freshly ground black pepper
Garlic Mushrooms
2 tbsp olive oil
400g chestnut mushrooms, thickly sliced
3 garlic cloves, finely sliced
¼ tsp chilli flakes
100ml original cream sherry
2 tbsp roughly chopped flat leaf parsley
Crusty bread, to serve
Nutrition
Calories column
Fat column
Saturates column
Sugars column
Salt column

Calories
246

per serving

12%

%GDA

Fat
11g

per serving

16%

%GDA

Saturates
2g

per serving

7%

%GDA

Sugars
8g

per serving

9%

%GDA

Salt
1.00g

per serving

17%

%GDA
Method
Patatas Bravas
Place the potatoes into a saucepan, cover with water and bring to the boil. Simmer for 12-15 minutes until tender.

While the potatoes cook, tip the tomato and sweet red pepper sauce into a saucepan with the vinegar and smoked paprika. Stir well, then bring to the boil, turn the heat down and simmer for 5 minutes until just thickening.

When the potatoes are tender, drain and return to the saucepan then crush lightly with the back of a fork – you want to create jagged edges.

When the sauce is ready, tip the potatoes into the sauce and mix well.

Season with salt and black pepper then tip into a serving bowl and serve straightaway.
Garlic Mushrooms
Heat a frying pan until hot. Add the oil and mushrooms and fry for 4-5 minutes until golden and just tender.

Stir in the garlic and chilli flakes and cook for another 2 minutes. Add the dry sherry and cook for 2-3 minutes until reduced by ¾.

Season with salt and black pepper then stir in the parsley. Serve straightaway with crusty bread to mop up the juices.