Preparation Time: 10 minutes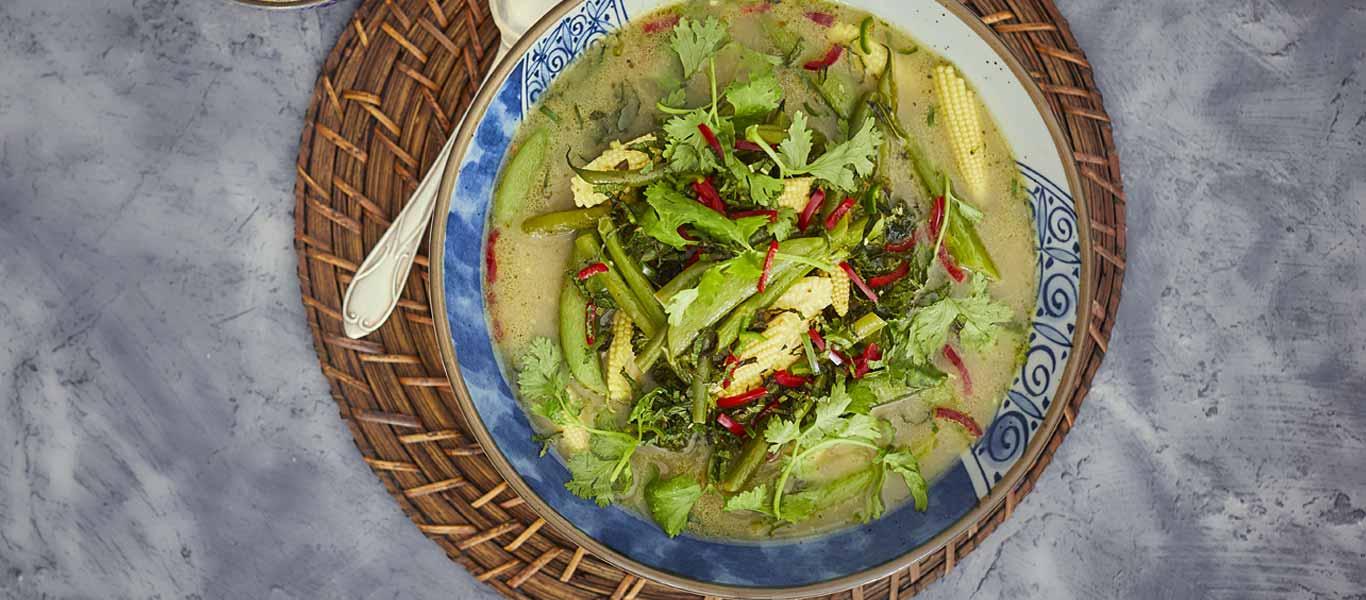 Ingredients
140g Thai green curry paste
1 reduced salt vegetable stock cube
400ml reduced fat coconut milk
160g tender stem broccoli, halved if long
160g fine green beans, halved
160g baby corn 160g sugar snap peas
160g frozen peas
500g microwaveable wholegrain rice
2 tbsp chopped mint leaves
2 tbsp chopped fresh coriander
1 red chilli, seeded and finely chopped
Nutrition
Calories column
Fat column
Saturates column
Sugars column
Salt column

Calories
403

per serving

20%

%GDA

Fat
17g

per serving

24%

%GDA

Saturates
8g

per serving

40%

%GDA

Sugars
8g

per serving

9%

%GDA

Salt
1.30g

per serving

22%

%GDA
Method
Set the kettle to boil.

Heat a sauté pan or saucepan until medium hot. Add the curry paste and fry for 1 minute until just coloured, then add the coconut milk. Fill the can with 400ml of boiling water and add to the pan with the stock cube and bring to the boil.

Add the broccoli and green beans and simmer for 2 minutes then add the baby corn and sugar snap peas and simmer for another 2 minutes.

Stir in the frozen peas and return to the boil, then remove from the heat.

Meanwhile, heat the rice according to packet instructions.

Divide the curry and rice between serving bowls. Top with the mint and coriander and chilli.