Preparation Time: 10 minutes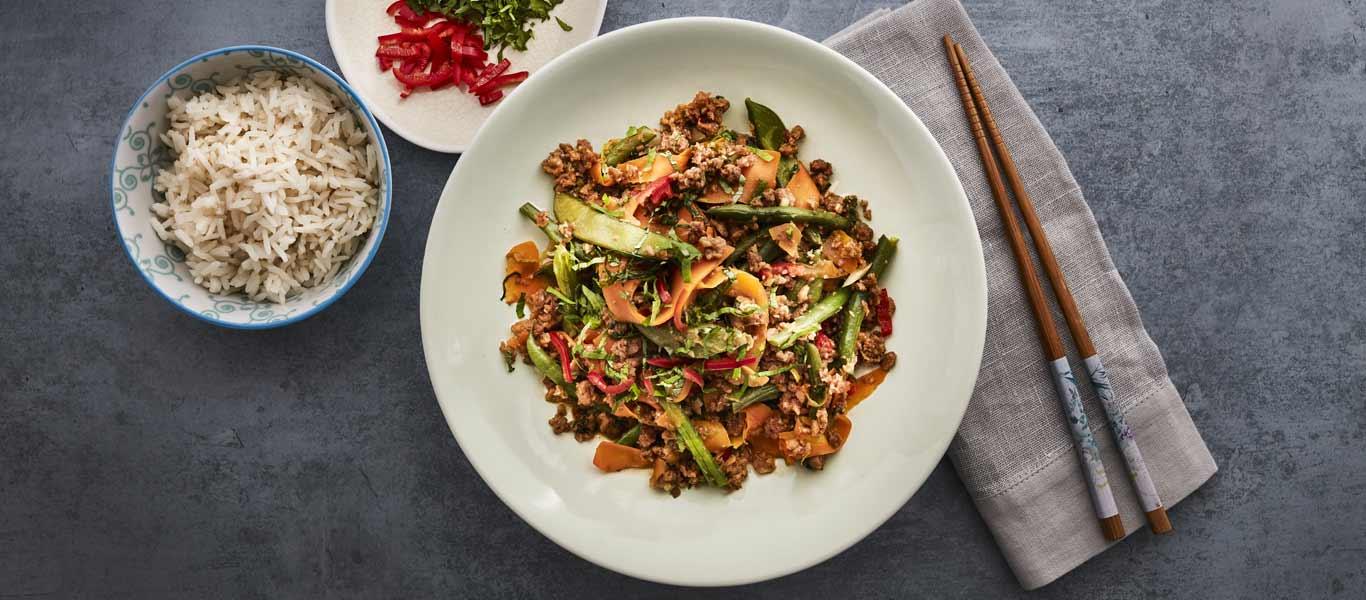 Ingredients
1 tsp vegetable oil
2 x 220g Vivera veggie soya mince
4 spring onions, finely sliced
2 garlic cloves, finely grated or crushed
2 chillies, seeded and finely sliced
160g green beans, cut into 4cm pieces
240g sugar snaps
2 medium carrots, peeled then peeled into ribbons
2 tsp soy sauce 2 tsp soft brown sugar 1 lime, zested and juiced
2 tbsp roughly chopped basil leaves
2 tbsp roughly chopped coriander
1 tbsp roughly chopped mint leaves
2 x 250g Tilda microwaveable jasmine rice
Nutrition
Calories column
Fat column
Saturates column
Sugars column
Salt column

Calories
420

per serving

21%

%GDA

Fat
6g

per serving

17%

%GDA

Saturates
1g

per serving

5%

%GDA

Sugars
13g

per serving

14%

%GDA

Salt
2.10g

per serving

35%

%GDA
Method
Heat a wok or sauté pan until hot.

Add the oil and the veggie mince and stir fry for 2 minutes until just browning.

Add the spring onions, garlic and 2/3 of the chilli and cook for another minute then add 500ml water and bring to the boil.

Crumble in the stock cube and stir to combine, then add the green beans and sugar snap peas and simmer for 2-3 minutes until just tender.

Stir in the carrot strips, soy, sugar, lime zest and juice and cook for 1 minute.

Stir in ¾ of the herbs and serve with the rice, heated according to packet instructions.

Scatter the remaining herbs and chilli over the top.