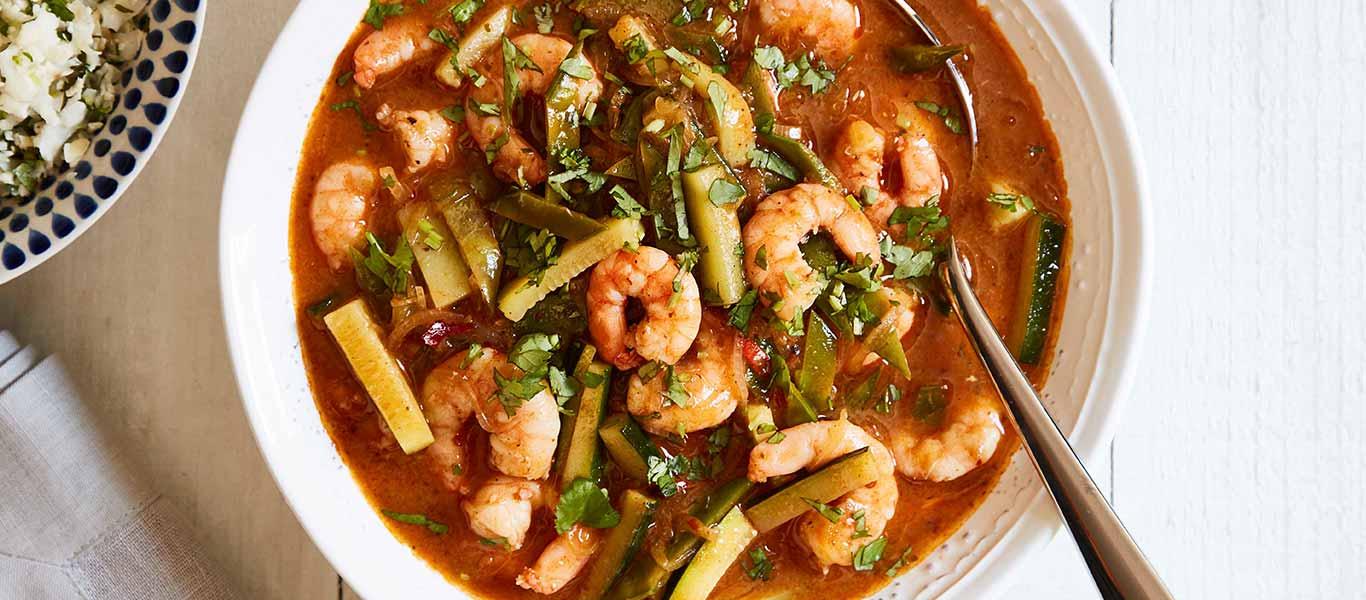 Ingredients
½ cauliflower, roughly chopped into florets
4 spring onions, roughly chopped
50g cashew nuts, roughly chopped
4 tbsp coriander leaves, roughly chopped
2 tbsp thai red curry paste
2 shallots, finely sliced
300ml half fat coconut milk
200 ml vegetable stock
1 tbsp fish sauce
1 lime, juiced
250g raw shelled king prawns
75g mangetout, sliced
1 courgette, cut into small batons
Method
Place the cauliflower into a food processor and blitz until chopped into tiny pieces, or coarsely grate the cauliflower into a bowl.

Add the spring onions and cashew nuts and pulse until they are broken down to similar size pieces.

Transfer to a microwaveable bowl. Add half the coriander, season with salt and black pepper then cover and microwave on high for 3 minutes until hot through.

While the cauliflower rice microwaves, cook the curry. Heat a wok until hot, add the Thai curry paste and stir fry for 1 minute until the oils start to release.

Add the shallots and cook for another minute then add the coconut milk and vegetable stock and bring to a simmer.

Add the fish sauce and lime juice and stir through.

Stir in the prawns then return to the boil and simmer for another 2 minutes, until they just start to change colour then add the mangetout. Cook for another minute - by now, the veg should be tender and the prawns cooked through. If not, continue to cook until the prawns are pink and hot through.

Spoon the hot cauliflower rice onto a serving plate and top with a helping of curry and the last of the coriander.