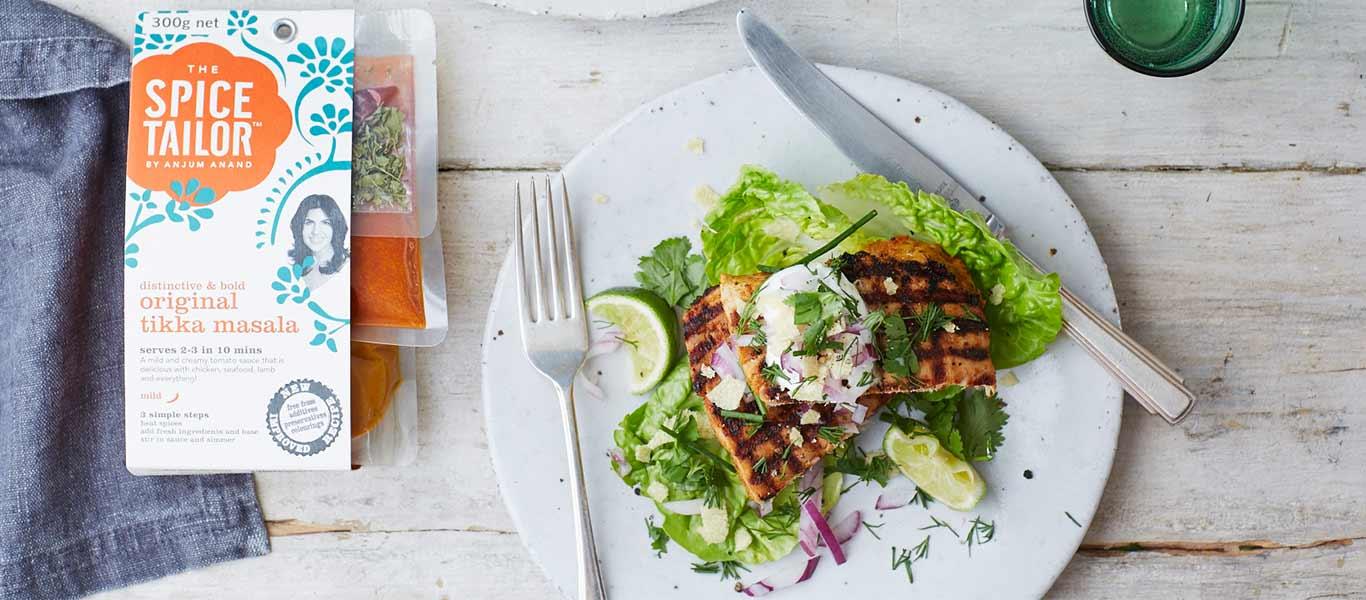 Ingredients
4 tuna steaks (around 175g each)
1 packet The Spice Tailor Original Tikka Masala Curry
6 tbsp sour cream
½ red onion, finely chopped
A good tbsp each of fresh chopped coriander, chives and dill
2 poppadoms (fried or roasted on the BBQ)
Salt and lots of freshly ground black pepper
2 baby gem lettuces, washed and dried and leaves separated
Lime wedges to serve
Method
Marinate the tuna steaks in the sauces for 1-2 hours. Save the spices for another time.

Heat your BBQ or griddle and place the tuna steaks on top. Grill gently for 5-6 minutes, turning halfway or until seared but not cooked through (they should still be raw on the inside). Meanwhile, season the sour cream well with black pepper and salt to taste.

Take tuna steaks off the heat and put onto a board and leave to rest for a couple of minutes before slicing on the diagonal.

Line your serving dish with the gem lettuce and place the tuna slices over the top. Drizzle over the sour cream and sprinkle over the onions and fresh herbs. Break up the poppadom into smallish pieces and scatter these over as well. Add the lime wedges around the edges and serve.