Preparation Time: 10 minutes
Cooking Time: 45 minutes plus chilling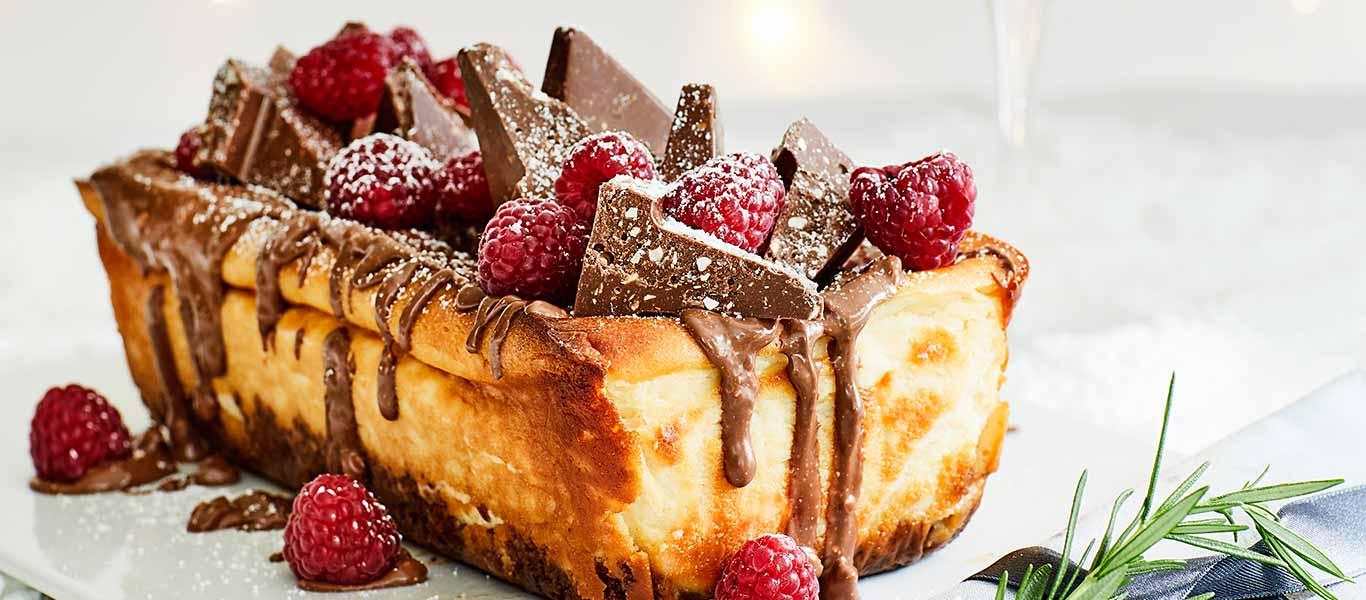 Ingredients
Ingredients for cheesecake
60g Toblerone, roughly chopped

45g digestive biscuits

15g butter

450g full fat cream cheese

200g Greek style yoghurt

250g caster sugar

2 tbsp cornflour

2 tsp vanilla extract

4 small eggs
Ingredients for topping 
300g Toblerone

50g raspberries

2 tbsp icing sugar
Method
Preheat the oven to 170C/fan 150C/gas mark 3. Grease and line the base and ends of a 1kg loaf tin.

Put the 60g of the chopped Toblerone into a food processor with the digestive biscuits and butter and blitz until they form crumbs. Tip into the tin and press down lightly until it forms an even layer across the bottom.

Put the cream cheese, yoghurt, sugar, cornflour and vanilla extract into a large bowl and whisk until smooth. Add the eggs and beat once more.

Pour into the loaf tin and smooth over the top. Place into the oven for 40-45 minutes until just set and lightly browned around the edges. Remove and leave in the tin until room temperature then place into the fridge for 1 hour to chill.

When the cheesecake has chilled, remove and lift out of the tin and place onto a serving dish.

To make the topping, chop half the Toblerone and place into a heatproof bowl and set it over a pan of simmering water.  Heat until the chocolate has dissolved – only stir when you can see that it is nearly all liquid.

Pour the melted Toblerone over the top of the cheesecake so that it covers the top and dribbles down the side. Cut the remaining triangles of Toblerone in half or chunks and place over the top of the cheesecake. Scatter the raspberries over the top and serve, or chill until needed.