Preparation Time: 15 minutes
Cooking Time: 1 hour (chilling time)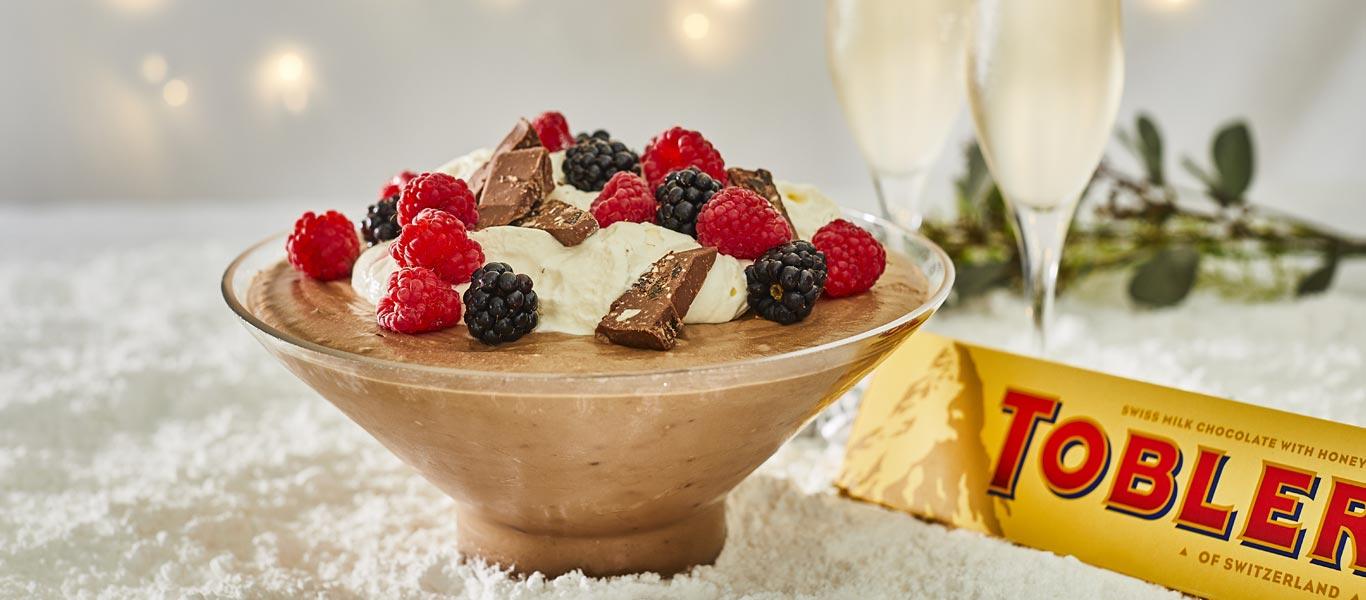 Ingredients
360g Toblerone, roughly chopped
4 egg whites
600ml whipping cream
150g fruit and nut Toblerone, roughly chopped
100g mixed berries, to garnish
Nutrition
Calories column
Fat column
Saturates column
Sugars column
Salt column

Calories
418

per serving

21%

%GDA

Fat
32g

per serving

46%

%GDA

Saturates
20g

per serving

100%

%GDA

Sugars
26g

per serving

29%

%GDA

Salt
0.14g

per serving

2%

%GDA
Method
Place the Toblerone chocolate into a heatproof bowl set over a pan of simmering water. Heat until just melted, then remove and stir until smooth.

Place the egg whites into a large bowl and whisk until soft peaks form then set to one side.

Pour the whipping cream into a separate bowl and whisk until soft peaks form, then spoon about ¼ into a small bowl and set aside in the fridge.

Pour the melted chocolate into the whipping cream and continue to whisk until totally incorporated.

Fold in the egg whites until no white shows, then carefully fold in 2/3 of the fruit and nut Toblerone. Spoon into a large serving bowl and transfer to the fridge for at least 1 hour until set.

Serve straightaway or cover and keep in the fridge for up to 3 days.

When ready to serve, remove and spoon over the reserved whipping cream, then scatter over the remaining chopped Toblerone and mixed berries.